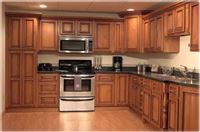 I don't know when Ikea started selling cabinets, but I've been hearing a lot about them lately. Sure they sell very cheap melamine cabinets, but they also sell cabinets that look very high-end. We have a homeowners mailing list at work which is usually full of high end remodels, but even people there have been buying the cabinets and having their contractors assemble and install them.
I recently purchased seven cabinets for the project in the man cave and it's worth sharing a few tips I picked up for getting the cabinets from Ikea. Like all the furniture in that store, it comes unassembled in a about 4-6 boxes per cabinet. You can pay $40 to have an employee pick all the pieces for you off the shelves, but it's not too hard to do it yourself if you have the right preparation.
Let's say you want to buy Akurum wall cabinets. First, go to the website and choose the exact size and color options that you want. That will give you a specific "Article Number" located under the price. Write that down. Near the bottom of the page, there's a section that says it comes in 4 packages and has a link to view the sizes of each package. In the popup window, each package is listed twice (once in imperial and once in metric.) Write down the article numbers here and note how many of each one you need. The text of the website will also suggest if you should get other things with the cabinets like legs for the base cabinets and suspension rails for the wall cabinets. Finally, create extra blank columns for aisle and bin numbers. Now you have a table that looks like this:

Print this off and take it with you to Ikea. Take a look at the map when you walk in and skip straight to the warehouse. Head for a computer and type in the main article #. That will pop up a screen showing each of those pieces that you listed and the aisle and bin where you can find them. Fill those numbers in on your sheet.
From here on out, it's just manual labor. Visit each of the aisle/bin locations and grab as many of the items as you need. At the end, add up how many pieces you expect to have and then count the items in your cart. Keep this sheet around because when you're back home, it will help you remember which boxes go with which cabinet style.
The $40 service from Ikea is expected to take 30-40 minutes. I did this in just under and hour, and that includes wasting about 15 minutes miscounting the items in my carts and trying to figure out why it wasn't what I expected.
My father-in-law kindly loaned me his truck for this, but it turns out I could have fit everything in the Escape. But given how far Ikea is from us, I didn't want to drive all the way down there and then not be able to get it home.
How easy are they to install? That will have to wait for another blog post. I'm still figuring that out.