I enjoy making things with traditional tools, but it's fun to mix in digital fabrication too. At work I have access to laser cutters and at home I have a Cricut and a CNC. All of those open up some interesting opportunities, but I've also had my eye on a 3D printer. We do have those in the maker space at work and we can use all the filament we want for free. I even got trained on how to use them, but have I ever printed anything? Nope. But I figured that if I got one to use at home, I would be more inclined to learn it.
I didn't want to buy a printer and not have any projects, so last year I wrote down any situations where I would have used the printer. Once the list got long enough, I felt confident that I would put the printer to good use.
Picking a 3D printer could last forever. There are endless variations on multiple designs in all price ranges. So instead of evaluating all of them, I picked an entry level model from one of the top companies: the Original Prusa Mini+ from Prusa Research. It took a few weeks for them to make it and then another week or two to make its way here from Europe, but when it arrived, it only took me a couple hours to finish assembly. I was glad that I paid for the version that was mostly assembled already. It printed wonderfully right away, and the only real calibrating that needed to happen was me understanding what good and bad prints look like.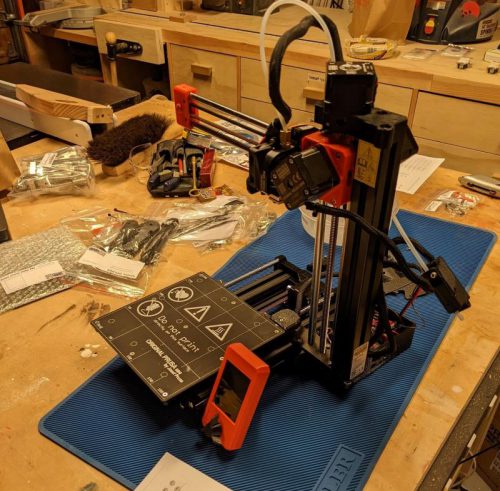 So far, most of my prints have come from pre-made models shared on sites like prusaprinters and thingiverse, but some of those have been pretty useful. For example, Elijah has been learning how to program using a PyBadge. It became even more fun for him when I printed out a case for the device.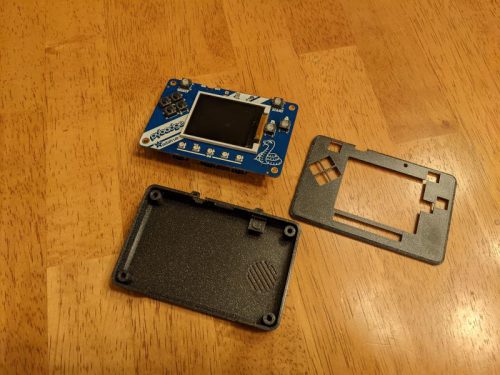 I've dipped my toe into the modeling waters using Fusion 360. I've gone through the Fusion 360 for Makers class from I Like To Make Stuff twice. I have a lot more to learn but I was able to design a print a small bracket without too much trouble.
Going forward, some of the prints I have in mind are:
Pads for the bottom of our cots to avoid scratching holes in the bottom of our tent
Workholding clamps for the CNC
Various connections for my shop vac hose to fit different tools
Wall mount for the Tesla mobile charger
I also want to make a better enclosure for the printer to keep the cats away from it and a dry box for the filament so it doesn't absorb moisture. Currently I unload it every time and put it back in a ziploc bag with desiccant packs.
The small prints I've been doing only take about an hour (that PyBadge case was in that range) and usually consume less than $0.50 worth of filament. It makes the trial and error process pretty painless.
I'm glad I went with the Prusa. It was a little more expensive than some super low end models, but since this is my first time, I wanted to get a good machine and focus on learning how to use it, not how to debug it. It's also nice to know that if I have any problems, there's an actual support team there to help me as well.