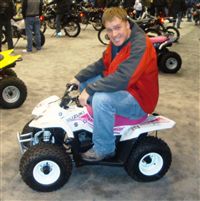 On Saturday morning, SimeonC and I headed to Qwest Fieldhouse the 2008 Seattle Motorcycle Show. I had never been before and I wasn't expecting much, but I was very impressed. They had both areas of the fieldhouse and the upper level filled with bikes, accessories, and a trials bike show.
I enjoyed checking out some of the passenger to rider and rider to rider headsets that are available. Now that I ride with Tyla a lot, it would be really nice to be able to chat with her on the ride. I'm not sure if I'm going to get a wired solution or a wireless headset package, but I'm hoping to pick something up for next riding season.
The motorcycle dolly I built has been working very well, but I've been wondering how the new bike will fit on it. The new bike will be a bit taller and I think it's a bit longer as well. I saw a great new product at the show called the Park-N-Move. You fold the center stand on the bike down onto this dolly. The bike then rolls in any direction. It rests on this dolly and the front wheel. At $199, it seems like a very simple solution and much easier to maneuver than my large platform.
And last, but not least, the main reason I went is because I wanted to sit on the bike I've been drooling over: the 2009 Kawasaki Concours 14. They had two of them at the show. Yes, I sat on both even though they are identical. In short, I absolutely loved it. I'm a big guy so I'm conscious about how I fit on bikes, but this one seemed to fit me quite well. I can't wait to put this thing in my garage!