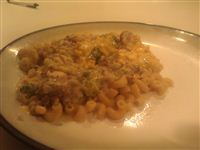 As our snowstorm dragged on last week, the pantry started getting thin. Thankfully we're only a half mile walk from the grocery store, but what fun is that? I decided to invent some dinner. Since they were calling the storm "snowmaggedon", I decided to call this "snowmaghetti." The picture is atrocious, but that's kind of the point. It doesn't matter what it looks like as long as it tastes good and you can use what you already have in the pantry. So here's how I made it, but when you make this, you're required to experiment!
Ingredients

1lb of ground beef
1lb of chicken
1 bag of frozen broccoli
1 can of corn
1 can of mushrooms
1 can of cream of celery soup
1 can of cream of mushroom soup
Cheddar cheese
1 box of whole wheat elbow macaroni

Directions

Cook the meat until it's done.

Coat 9×13 baking dish with nonstick spray and then put in the meat, veggies, and soup. Top with cheddar cheese.
Bake at 375 for about 20 minutes
Meanwhile, cook the macaroni according to the directions on the box
Let the dish cool for a few minutes after removing it from the oven so it's not quite so soupy.
Serve the mixture on top of the macaroni.
It was surprisingly delicious! The one thing I'll probably change next time is only using one kind of meat. I wanted to go straight chicken, but we only had one chicken breast in the house.
If you attempt something like this, let me know what you did to improve it. If you feel like Jake and Eddie from Earnest Goes to Camp then you're doing it right!