The other day I was thinking about my attempted college spring break trip to Hawaii in 2000. I couldn't believe it wasn't on my blog and then I remembered that it existed many iterations of the site ago before I started blogging regularly. So this is going to be a bit long, but I thought I'd resurrect the story from my backups and post it here. Unless you've been following my site for 23 years, this might be new content to you.
The characters in this story are all friends from school. Originally it had been a planned trip for four guys but after I paid for a bunch of stuff ahead of the trip one guy backed out. (This is the point in my life where I vowed to collect money from the group immediately after booking something like that.) We were scrambling to find someone to fill this spot because we couldn't afford to split it three ways. Thankfully my friend Jess was willing to come. No, she wasn't dating any of us and her dad gave us a speech before he let her leave for Hawaii with three nerds.
Another key point to the story is that none of us could afford plane tickets for the trip. The only way that it worked was that Rohan was an intern at Delta and could get us all free standby tickets. Free. Yes, this should have been a red flag, but enjoy the carnage that came from my learning opportunity.
I've resisted the urge to improve the text. It is mostly what I originally wrote with some grammatical corrections and updated links where possible.

Day 1: Friday
We were all packed up and ready to roll when 7:00 rolled around on Friday night. Rohan and I dumped our bags into Steve's car, and we drove over to pick up Jess. The trip up to Steve's house in Chicago went quickly.
We planned to leave at 4:00 Saturday morning. That meant that we needed some sleep. That didn't really happen though because we were all too excited. I think we got about two hours of sleep.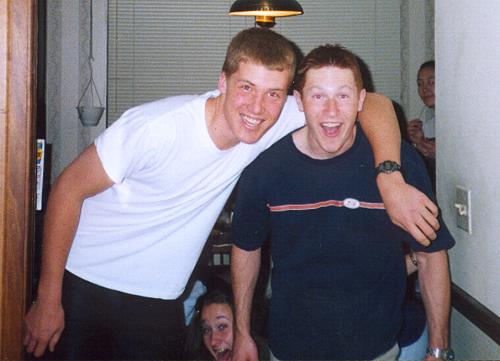 Day 2: Saturday
We got up at just after 3am. Steve's dad whipped us up some pancakes, and we were out the door by 4. Our flight left at 6 from O'Hare. We ended up at the end of the line to check in. We ran onto our plane as
they were closing the doors. I suppose it's important to mention at this point that we are flying standby for the whole trip. That means that we don't get on if there are no empty seats on the plane. But this flight was only half full, so we even got to sit together. Oh yeah… we were surprised to find out that our "free" buddy tickets carried a $200 tax on them.
We made it into Cincinnati just fine on our MD-88. We put ourselves on the standby list for the flight to LA. Rohan got called before us. He has a higher priority because he works for Delta. He got on the plane but we didn't. It was too full. So we sat in Cincinnati as Rohan flew to sunny LA. Luckily, a few seconds before he got on the plane, I gave everyone my mom's number. If we got split up we would all call home to see what was going on.
It turned out to be a busy travel day in Cincinnati. We watched flight after flight take off without us. We finally got on a flight in the evening after spending 12 hours in the airport.
The time wasn't really wasted however. We met up with some friends from Purdue (Mark and Rosie) who were on their way to Boston. We also met two girls named Kelly and Julie who were on their way to Honolulu. (That's Kelly and Julie on the left in this picture.)
Famous person sighting #1 : Kelly and Julie spotted Britney Spears ducking into a luxury suite amidst a throng of body guards.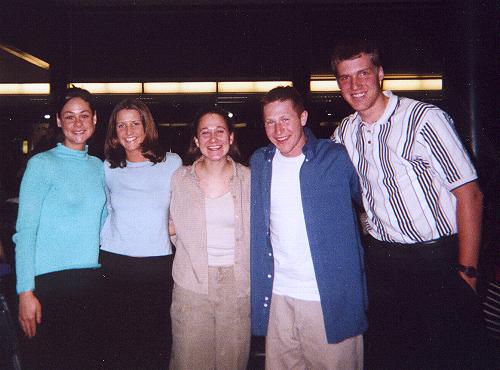 Day 3: Sunday
We got into LA at 12:30am. We had to sleep in the airport because no flights were leaving until the morning. But in LA they make you sleep out by the check-in counters. That means that every weirdo in LA is more than welcome to come in and sleep there too. Jess couldn't sleep and stayed awake all night. Steve and I were really tired and managed to catch a couple winks.
When the morning rolled around we started talking to Delta. The Delta people in LA were the most helpful Delta employees that we met all trip. That's a good thing because we were there for 19 hours waiting for a flight out of LA to Maui! We learned that we were on the bottom of the bottom of the standby list. Not only were we on free buddy passes, but it is then sorted by date of hire. Rohan was hired in August 99. There were people on the list that had hire dates from before I was born!
Kelly and Julie were with us the whole time. They got on the same flight from Cincinnati and out of LA. We also met another guy named Glenn. It was nice to have some new company. And it helped that they were in the same boat as us (standby tickets.) We had to get some fresh air, so we went to the top level of the parking garage. I don't know how fresh the air was, but at least we could see the sun! I saw my first palm tree from the top of a parking garage in LAX.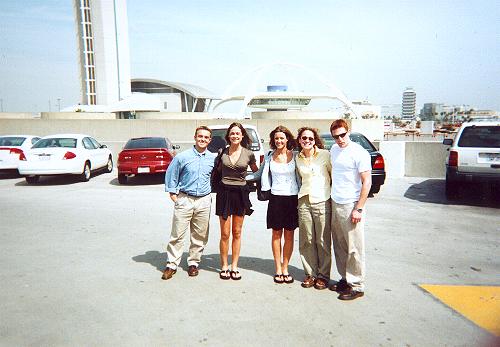 Famous person sighting #2 : Somebody ran off the plane. A bunch of girls took off running and screaming after him. We later talked to them and found out who it was. We just saw Billy D. Williams, a.k.a. Lando Calrissian from Star Wars!
Famous person sighting #3 : A guy got off the plane that we all thought we recognized. Finally we asked the lady he was traveling with who he was. The guy was John Amos and she was his publicist! He was the adult Kunte Kinte in "Roots". He was also in Die Hard II (co-starred with Bruce Willis), Good Times (the sitcom), Lockup (starred with Sylvester Stallone), Fresh Prince of Bel Air (sitcom), and In the House (another sitcom.)
We finally got on the last flight to Hawaii. But it didn't go to Maui. We went to Honolulu instead. At that point we just wanted to get out of LA. When we got to Honolulu we couldn't stand another night in an airport. So we shelled out some more money for a hotel around the corner. Boy did that shower and bed feel good after sleeping on the floor in LA.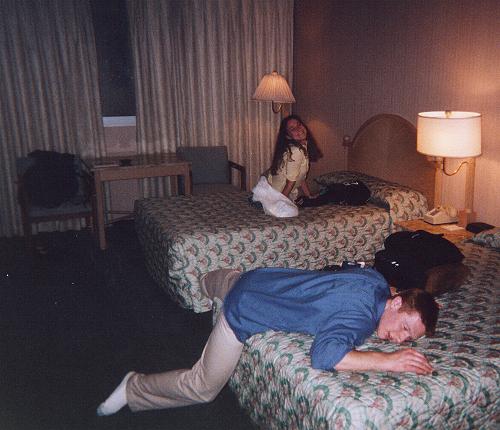 Day 4: Monday
We got up around 8 and headed back to the airport. Rohan had made it to the condo in Maui by this time. He called us at the hotel and gave us some info about getting to Maui. The Delta flight (which we could get on for free) didn't leave until 7pm. We just wanted to get to Maui. So we shelled out another $75 each to jump islands.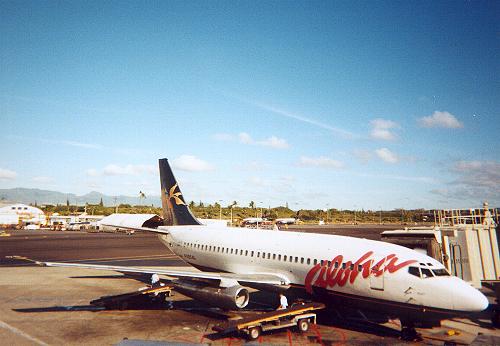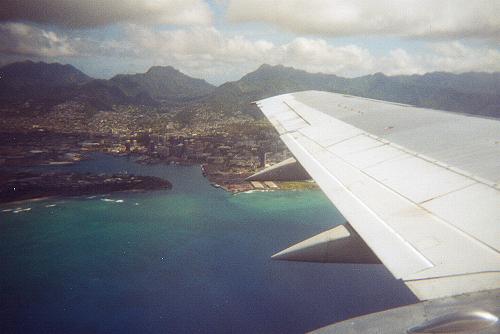 That got us to Kahului, Maui around lunch. Unfortunately, the Delta counter there doesn't open until 2:15pm. We needed to talk to them to get our bags. So we took a taxi to pick up our rental car. The taxi driver laughed when I said we wanted to go to Wheels U.S.A. I soon found out why.
This place was a junk yard. And there was our Mustang convertible that we had been looking forward to. The lady explained to us that the back windows didn't roll up. And she was also nice enough to tell us that the tank was almost dry. She pointed us to the most expensive gas station on the island ($1.97/gallon for unleaded.) The car was a beat up '89 Mustang. The odometer read about 28,000… I think there should at least be a 2 in front of that, maybe even a 3. At least it ran and the top went down. That's about all I can say for Rhonda. (That's what we named her.) You can see Rhonda at the bottom right of this picture. Actually, the picture doesn't do the place justice. I got it's good side, if that's possible. The other side looks like the back yard of a redneck. I bet half the cars on the lot don't run. One of my goals in life is to make sure that no one I know ever rents from this place.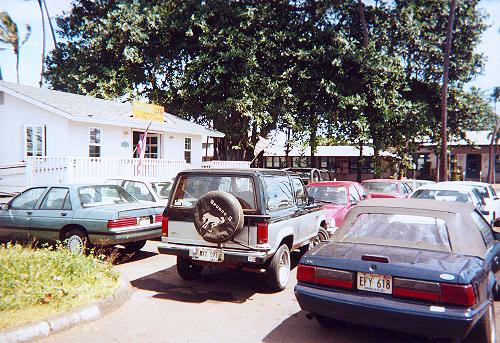 We drove to the mall and got some lunch. Then we went to a music store and Steve bought a ukulele. It was time to head back to the airport to pick up our bags. Thankfully they were all there.
Next it was on to the condo. I was really bummed about getting ripped off with the car. I kept wondering how bad the condo would be…
But first we had to get there. Lesson for Maui bound travelers: Just because it's the shortest distance on the map doesn't mean it's the shortest. We took a winding one lane road around the volcano. We could only go about 15 or 20 miles and hour. It was really beautiful, but it took us two hours to go about 40 miles.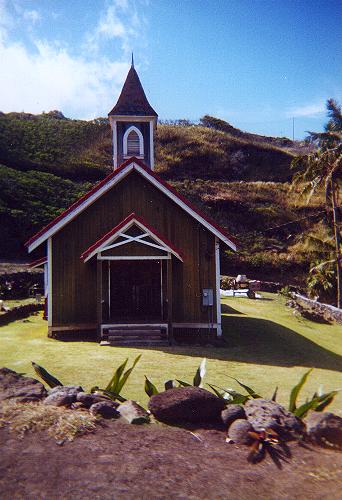 We made it to the condo. I almost thought I had the wrong place because it was so beautiful. That condo was unbelievable. I'm still really happy with it, and I will happily stay there again if I ever make it back. (It's the Napili Shores Outrigger Resort Condominium.) Our condo had a good-sized living room, full kitchen (pots and pans included), bedroom, and bathroom. It also had a porch overlooking a beautiful garden.
Rohan was there waiting for us. We weren't feeling very adventurous at this point. After calling our parents to let them know we made it, we screwed around on the beach for the rest of the day. (Oh yeah, the condo was right on the beach too!
Here are some shots of the condo: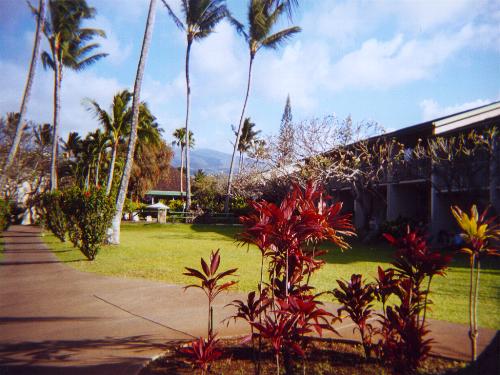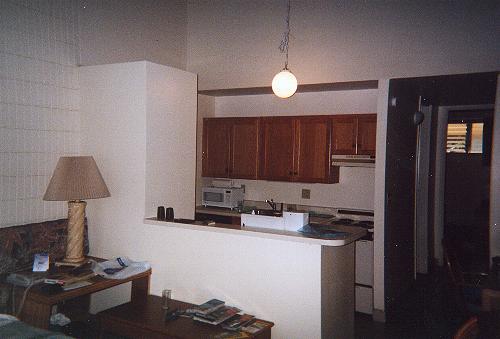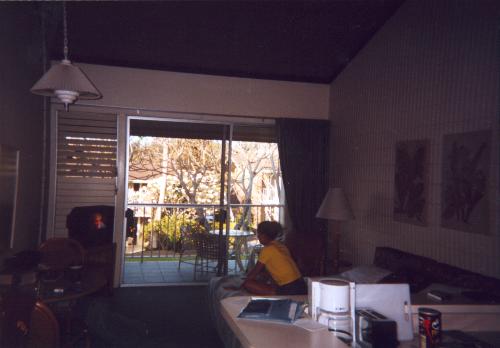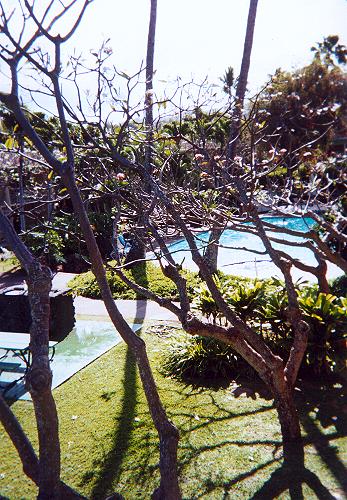 Day 5: Tuesday
Jess was still tired from the trip and just wanted to lay around. So that's what she did all day. Boy did she get red! Rohan, Steve, and I took Rhonda out for a cruise. We just drove around stopping at beaches.
We went back to find Jess fried. None of us felt like spending more money, so we cooked in the kitchen and ate food that we brought with us.
Day 6: Wednesday
It was time for us to do something fun. Steve, Rohan, and I decided to go snorkeling. Jess didn't come along because she got a little too much sun yesterday. We found out that we could go in the afternoon for only $40 (instead of $80). The catch was that it was usually to windy to go to Molokini (the snorkeling mecca of Maui.) But we were blessed enough to make it out there! It wasn't too windy. I guess that only happens about 5% of the afternoons. And wow! That was the best $40 I spent all trip. The boat ride was fun, they fed us well, and the fish…. amazing! There were hundred of them… all different shapes and sizes. They would swim right up to your face! Here are some pictures from my underwater camera: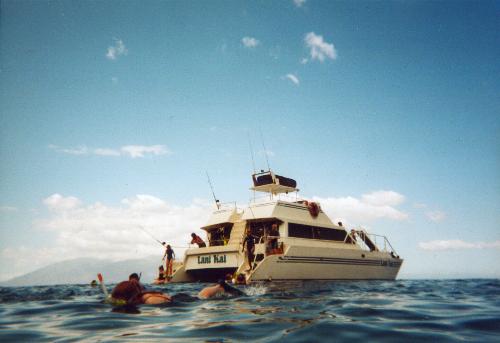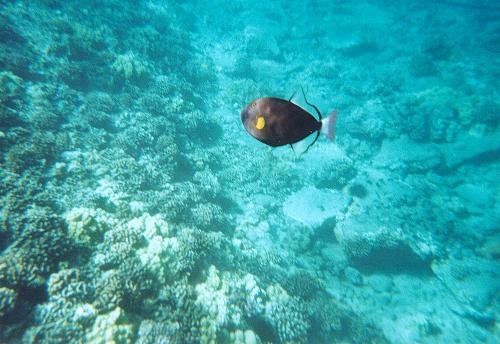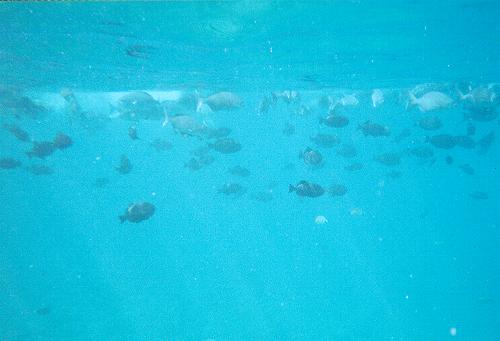 Jess had been in the condo/on the beach all day, so we decided to take a little trip that night to get her out of there. We went to Lahaina and ate at the Hard Rock Cafe. It was a great time and a nice way to relax a little.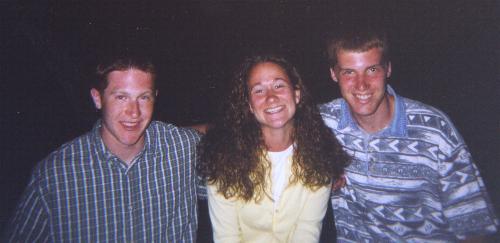 Day 7: Thursday
This was a big day. We drove all the way to Hana. It was only about 120 miles away (the other side of the island) but the round trip took somewhere between 8 and 9 hours. The sights were indescribable! The road was really curvy and it was only one lane in some places, but it was kept up a lot better than our other experience with that first road. We saw amazing sights, but I think these pictures will have to do the talking.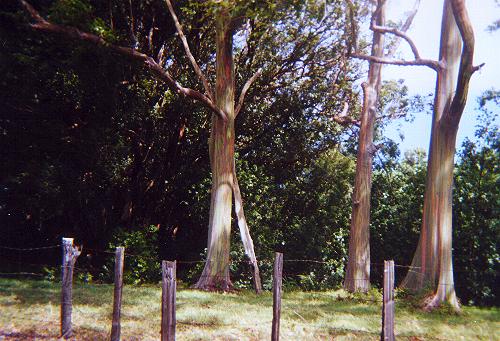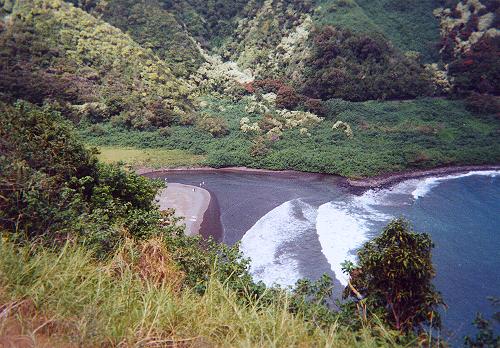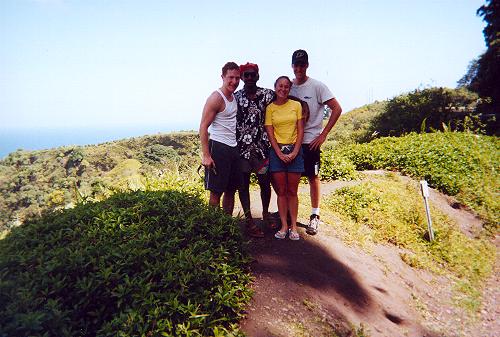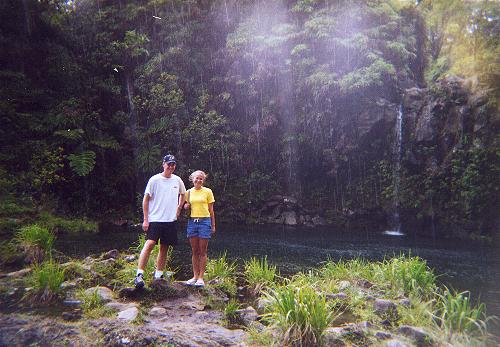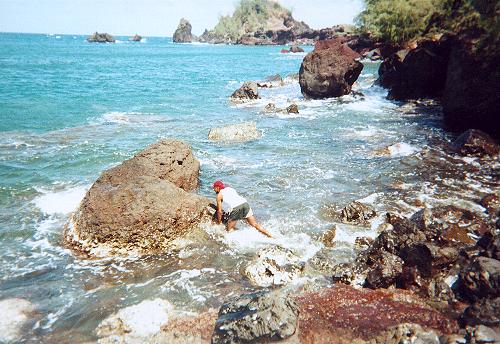 By the time we got back from that we were all really tired. Our condo deal gave us $50 to spend at the restaurant there. Rohan, Steve, and I ate there. It was a Thai/Chinese place. It's a good thing that Rohan was there to explain things! Ha ha! Steve and I had no idea what was going on. But the food was sure good.
Day 8: Friday
This was our last real day in Maui. Rohan got up at 1:30am and took a bike ride down the crater. He said it was really quite a trip! You just coast all the way down (40+ miles). The rest of us just bummed around the condo, in the hot tub, and on the beach. Rohan got back around lunch time and joined us in being lazy on the beach.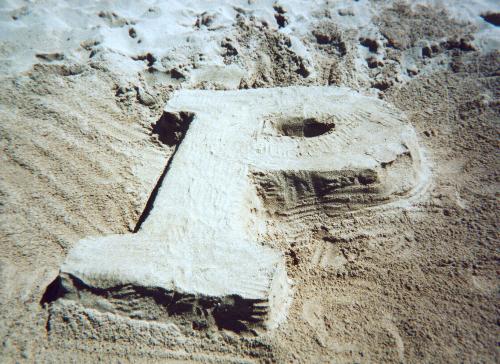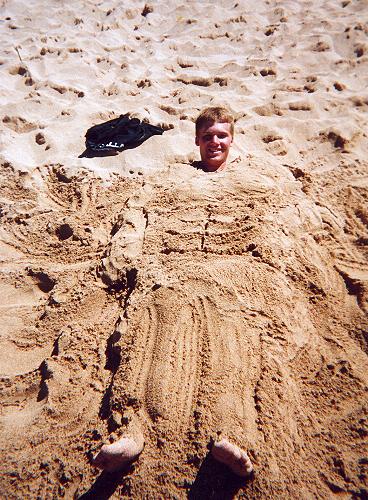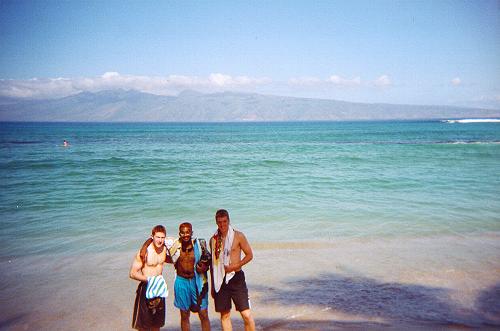 We headed back to Lahaina for supper. We thought about eating at Bubba Gump Shrimp, but we ended up at Cheeseburger in Paradise. That was my favorite meal of the whole trip! It's highly recommended!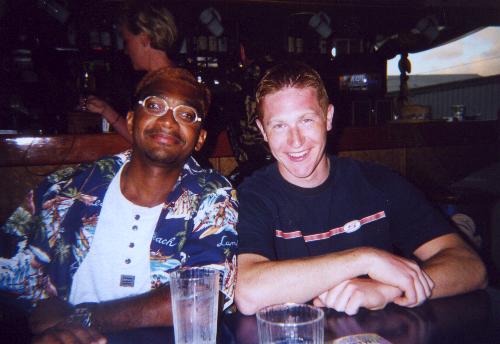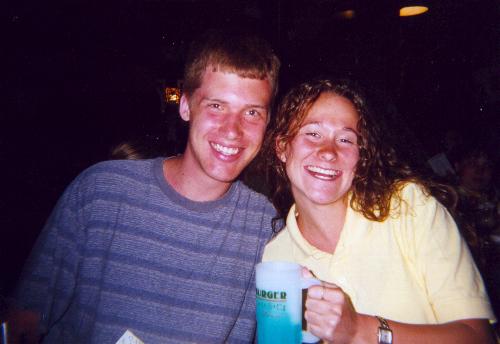 Day 9: Saturday
We had to leave today. I know I had an excellent time, and I'm pretty sure everyone else did too. But we were ready to get back. We discovered that four people with luggage wouldn't fit in our rental care so we drove with the top down and the backseat riders held onto luggage that was balanced on top of the trunk. We dropped off Rhonda and waited at the airport. We caught the first flight over to Honolulu (at about 4:30pm). There are six flights a day out of Honolulu to the mainland. We tried to get on them all. No luck. There were people there from Friday. It was really a big mess. So we spent the night in the airport. It was a lot nicer than LA though. There were carpeted ledges that we could sleep on, and they let us stay in the terminals.
Day 10: Sunday
We got up and put ourselves on the lists of standby people for the flights today. Six flights left, and we were still in Honolulu. That meant another night in the airport. Keep in mind that we are wearing the same clothes without a shower since Saturday morning.
While we were waiting, Kelly and Julie showed up! They were trying to get back too. But they didn't have any luck either.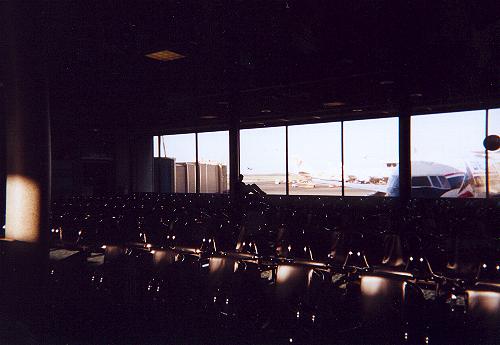 This is a good picture to explain what it's like in an airport overnight. Empty. That's me sitting up on the window ledge / my bed. A Delta plane sat there every night mocking us. We would sit in the terminals all day. They would be empty. Then a couple hundred people would come get on the plane. And then it would be empty again. It gets pretty depressing after a while. Eating Burger King for three meals a day didn't help much either. Steve spiced it up by playing guitar with an airport band complete with geriatric hula dancers.
As we talked to the Delta agents (who weren't very helpful), we slowly found out why we were having such a hard time getting on the plane. Other airlines were canceling flights. Delta had deals with those airlines, so all those passengers were put on the list ahead of us. At one point there were 160 people on the standby list. And the flights out of Honolulu had about 5 open seats on each one. Since we were at the bottom of the list we didn't have much hope of getting on a plane.
Day 11: Monday
I'm sick of eating Burger King. I've spent more money on airport food than you can possibly imagine. Just our luck… Northwest cancelled two flights so all those people got put above us on the standby list for Delta. We had been told all weekend that we would for sure get out on Monday. That just wasn't going to happen.
Kelly and Julie did get out because their buddy pass hire date was quite a bit earlier than us. That was the last we saw of them.
We had to do something. Three nights in the same airport is enough to drive anyone insane. We decided to take a big change and fly back to Maui. There are only two flights out of Maui a day. One goes to Honolulu and one goes to LA. If we didn't get on that LA flight we would be stuck there until the next night! There had been some heavy praying going on that weekend, and it got a lot heavier this evening. You can't imagine our relief when we got on the flight to LA out of Maui! We were finally leaving Hawaii!!!
Day 12: Tuesday
We got into LA at 5am. We listed for the Atlanta flight and prayed that we got on. We did! So with only an hour and a half in LA we were out the door again. We got into Atlanta at about 3. Then we got on the next flight to O'Hare that left at 4! It all worked out so wonderfully. We got into O'Hare, picked up our bags that had been there for days, and Steve's dad picked us up. We picked up Steve's car and drove back to Purdue.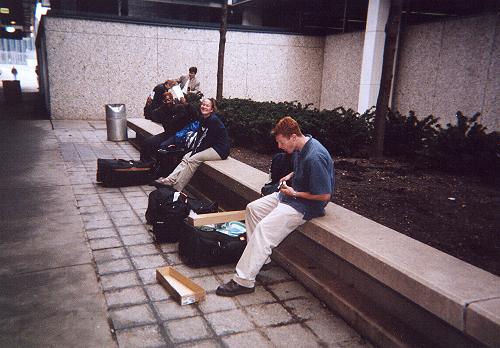 That's it… we're back. But all is not over. Jess failed an exam on Monday because she wasn't there to take it. We all missed a lot of classes. I had a huge Computer Science project due on Friday. There were some late nights trying to get that done.
That's my story.  The time in Maui was wonderful, but if I had known that we would spend more time in airports than in Maui I don't think I would have gone.  Maui is an amazing place, and it's a shame that our standby situation overshadows it.  It's hard to remember our time in Maui right now because all we can think about is the airports.  I imagine that will go away and we will be left with memories of Maui… or at least that's what I'm hoping.
Current Day Thoughts
I still think about this trip a lot. We were so naive going into it. It's a nightmare travel story. But… we still had fun.
Thinking about doing this now, I marvel at how we did this with no cell phones. To keep our parents updated, we had to call from pay phones. WHAT DID WE DO ALL DAY? How did we just sit in a chair and stare at each other for 60 hours in the airport? I know we had a deck of cards and we talked to other college kids in similar predicaments, but wow, it's so different from today when we'd just bury our heads in our phones and try to numb the day away.
I also look back on this trip now as a parent. Imagine seeing your kid (who has almost never been on an airplane) off on week-long trip with no cell phone and three college kids you've never met! I'm not saying my parents made a bad choice, but we're so used to instantaneous 24/7 communication and GPS tracking these days that it feels like a foreign concept.
I feel like I have to restate my point from the beginning: yes, three guys went on a spring break trip with a member of the Purdue dance team and she wasn't dating any of us. I imagine when Jess asked her parents about it, she probably said something like, "Don't worry. It's two computer science majors and an aerospace engineering major" to which they laughed and said, "Ok, have fun honey!"
Sitting in the terminal watching flight after flight leave with their fancy boarding passes was really tough. To this day, when I get my boarding ticket, I feel lucky/blessed/thankful to see that I have a "guaranteed seat" on a plane. (This Hawaii trip is also where I learned that even if you have a boarding pass you might still get bumped if they oversold the flight and too many people show up.)
Yes, this trip was miserable at times, but I wouldn't say that I regret going. If nothing else, it makes for quite a story.