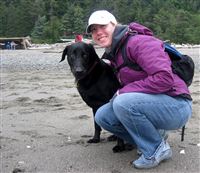 Tyla and I had our first camping trip of the year over Memorial Day weekend. Her parents and sister were camping at Thousand Trails campground in La Conner, WA. I almost always camp at state or national parks so it was interesting to go to a private campground. There were many more amenities available than at a public park.
Her family was spending the whole weekend there, but we showed up on Saturday afternoon around the time the rain stopped. We took a walk along the beach and then spent the evening by the fire. The campsite was a bit small and it was quite cold so Tyla and I decided to cram into the camper instead of sleeping outside in a tent. We actually fit pretty well on what amounted to a twin size bed and it was nice and toasty warm inside.
On Sunday morning we piled into the Expedition with Oskar and headed to Double Bluff offleash dog park on the south end of Whidbey Island. It was about 50 degrees, spitting rain and very windy, but Oskar was more than happy to gallop off into the surf. After wearing him out there, we headed back to the campsite with a brief stop at a market along the way.
The rain returned and they were leaving early on Monday anyway, so Tyla and I decided to make the quick 1.5 hour drive back to our own bed. Thanks to the Brandts for letting us invade the campsite for a night!