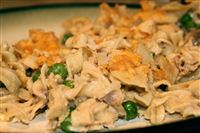 "Tuna" and "casserole" are not two words which usually excite people, but for some reason it sounded good one night. I must say, it turned out to be quite delicious. The recipe comes straight from allrecipes.com and I didn't make many modifications.
Ingredients

1 (12 ounce) package egg noodles
1/4 cup chopped onion
2 cups shredded Cheddar cheese
1 cup frozen green peas
2 (6 ounce) cans tuna, drained
2 (10.75 ounce) cans condensed cream of mushroom soup
1/2 (4.5 ounce) can sliced mushrooms
1 cup crushed potato chips

Bring a large pot of lightly salted water to a boil. Cook pasta in boiling water for 8 to 10 minutes, or until al dente; drain.

Preheat oven to 425 degrees F (220 degrees C).

In a large bowl, thoroughly mix noodles, onion, 1 cup cheese, peas, tuna, soup and mushrooms. Transfer to a 9×13 inch baking dish, and top with potato chip crumbs and remaining 1 cup cheese.

Bake for 15 to 20 minutes in the preheated oven, or until cheese is bubbly.