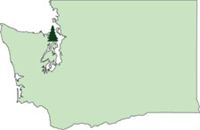 This weekend is our second camping trip of the year, and it's a big one! Our campsite is packed as full as they allow. Campers include Laura, Matt, Andy, Stephanie, Tyla, Chelsea, Tim, and me. Chelsea, Tim and I are getting a heard start on everyone else. We actually arrived at the campsite last night and everyone else is coming this evening.
The popular state parks fill up very quickly. We find the more popular parks by looking far ahead and seeing which ones are booking up. Washington has a great online booking system which makes this easy. On the last day of 2007, we hopped online and reserved a campsite at Fort Flagler. It's over on the Olympic Peninsula so we'll be hopping on a ferry to get there.
The website lists some interesting history for the park:
Fort Flagler, along with the heavy batteries of Fort Worden and Fort Casey, once guarded nautical entrance to Puget Sound. These posts, established in the late 1890's, became the first line of a fortification system designed to prevent a hostile fleet from reaching such targets as the Bremerton Naval Yard and the cities of Seattle, Tacoma and Everett. Construction began in 1897 and continued in one form or another until the fort was closed in 1953. The property was purchased as a state park in 1955. Fort Flagler is named after Brigadier General Daniel Webster Flagler.
As you probably guessed, our weekend will be full of good food, good times, and plenty of cornhole! Pictures will be abundant next week. Have a great weekend!