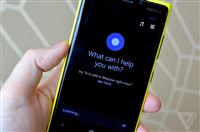 Verizon still hasn't released an update for the HTC 8x to push it to Windows Phone 8.1 that came out earlier this summer. The latest promise was October but that obviously still hasn't happened. The Microsoft Band only works with 8.1 and above (and Android and iOS too) so I decided to take the plunge and manually update my phone. It's not supported, voids your warranty, etc so do this at your own risk. I chose to update my phone but didn't touch Tyla's. Thankfully it has worked ok. This was my first real experience with with 8.1 so here are my thoughts after a couple weeks:
Cortana is great! You can ask her anything and she'll either search for the results or perform the action. One of my favorite capabilities is saying something like "Next time I'm at Safeway, remind me to buy bread." It sets a reminder coupled with my GPS location. Super helpful!
There's now a notification center similar to what Android and iOS have. This feels like a "me too" feature that isn't needed. The brilliance of Windows Phone is that you have live tiles giving you all the information you need at a glance. Now I have that but I also have this notification center giving me the same information in a less convenient fashion. It probably feels more comfortable for people switching to the platform, but I wish I could just turn it off. I should probably look into that more.
In addition to the normal keyboard, you can also now use the "Word Flow" keyboard. This is like Swift Key for Android. You just drag your finger across the keyboard and it figures out what you're trying to type. Pretty cool and really useful when your hands are busy or you aren't looking at your screen the whole time.
One big downgrade in my book is the loss of the "hubs." They are technically still there but all the awesomeness about them is gone. For instance, I used to click on the "Me" tile and be able to make an update that went out to both Twitter and Facebook. Now I need an app for that. I used to be able to click on a tile for another contact and see their Facebook and Twitter updates without opening anything else. Now I need apps for that. Boo. This was one of the things that made Windows Phone more awesome than Android and iOS. Now we've lost that differentiator.
There are lots of other tweaks and changes and overall I'd call it a big win. It feels a tad sluggish on my phone but my hardware is over two years old now so that's not terrible. We should be up for some new phones soon. More on that later but I'm thinking I might drop Verizon after being a customer for 14 years and switch to AT&T who appears to have much more love for the Windows Phone platform. Plus, AT&T doesn't track you anymore.