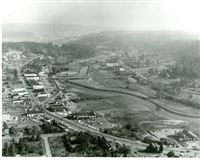 Earlier this summer, I was surprised to see a "20th anniversary" parade for the city of Woodinville. After some research (translation: reading Wikipedia), I learned that the city was incorporated in 1993 after Bothell started discussions of annexing the area. Take that Bothell!
The area was settled in 1871 by a logger/farmer named Ira Woodin. The cabin he built ended up serving as the first school and the post office. 93% of the buildings built since then have been wineries.*
The city held 10,938 people in the 2010 census which is a 19% increase from the 2000 census. Every one of those people apparently drives through downtown Woodinville at rush hour. There are some old train tracks that run through the middle of the city and make for awkward intersections under the bridge. At some point I think all 11K residents are going to be willing to pay a bit extra in our taxes to rip that thing out. Luckily my route to work avoids that whole mess.
Tyla and I continue to be thrilled with the location of our home and I'm happy to call Woodinville home. It's nice being part of a smallish community inside the huge 3.5 million population of greater Seattle.
* Not true, but probably not far off.