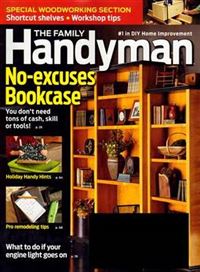 The monsoon season is upon us which means it's time to retreat inside from the yardwork and RC planes. I've been busy making sawdust lately so I thought I'd devote a whole week to woodworking posts (except Wednesday which is the fantasy football update.)
For this first post, I thought I'd mention a couple woodworking magazines that I read and ask if you have any others that you recommend:
Family Handyman – This isn't exclusively about woodworking, but it usually contains a set of plans for something that isn't terribly complicated. In addition to the plans, there is almost always at least one small tip or trick that I learn. With Christmas approaching, this is a great gift for the handyman in your family.
Woodsmith – I just started getting this one for my birthday, but it already has me contemplating some projects. There are multiple plans in each issue and the magazines come three-hole punched for easy binder storage. You'll want to come back to them later. Their website also offers digital access to their back catalog for $99. Depending on how much I enjoy this magazine, that might end up on my wish list at some point.