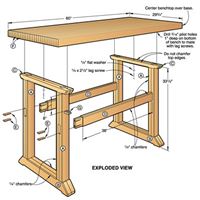 There is a site for everything on the internet. It's nearly impossible to come up with an idea that doesn't exist already. But I've got one and I'm giving it away for free. As best I can tell, there is no good website that has downloadable (either free or for purchase) woodworking plans along with user reviews of the quality of each plan. Think about having a shopping experience like Amazon.com except it's all woodworking plans. You could have customer submitted images of each project, reviews saying how good or bad each plan is and a catalog that is both browsable and searchable. Creators could upload their plans and get money from people who buy the plans.
There are actually some sites out there that attempt to collect plans but they are ancient at best and generally they're indistinguishable from spam sites. They're flooded with dead links.
Why doesn't this exist? Somebody please take the idea and run with it! All I want in return is a link to the finished site so I can use it.