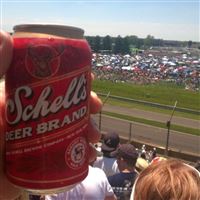 I've been using Untappd.com for the last 18 months. It has been fun to keep track of all the different beers that I've had. While we were sitting in the stands for the Indy 500, I popped the top on my 100th different beer! It was a Schell's Deer Brand straight from New Ulm, MN. I suppose technically I've had more than 100 different beers but I'm not counting any that I drank before I started using the app.
So now that I have all this data, what are the best beers? First I should start by explaining the rating scale that I use:
This isn't what I call beer.
If somebody hands me one, I'll drink it, but I wouldn't pay for it.
If I can't find #4 or #5, this is a good choice.
If I go to buy beer and this is on the shelf, I will almost always choose it.
Stockpile this beer! It's awesome!
I also won't let a beer get to #5 unless I've had it on multiple occasions. Sometimes a beer seems more delicious based on your social situation or the food you're eating. A 5 star beer should be good any time!
So far, I've only given 5 stars to three beers:
Galley Mac Amber Ale – This is the recipe that we used when we made our own beer. It's a copy of the Mac & Jack's African Amber recipe.
Mac & Jack's African Amber – The brewery is only a couple miles from work but I've never been there. WHY!?
Deschutes Brewery Red Chair Northwest Pale Ale – This is only made 5 months out of the year so when I see it, I buy a lot of it.
There aretwo more beers that are vying for a spot on the 5-star list:
Bell's Brewery Two Hearted Ale. I had it for the first time on this last trip to Indianan and loved it. It's similar to the Red Chair that is already on the list.
Hopworks Velvet ESB – I had this in Portland but can't find it here!
There are lots of four star beers on my list: Fat Tire, Redhook ESB, Alaskan Amber, Double Take Amber, Widmer Hopside Down, 10 Barrell Hop Project #37, Redhook Audible Ale, Anchor Brewing Liberty Ale, Fish Brewing Spire Mountain Cider, Gustav's Enchantment Ale, Great Lakes Burning River Pale Ale, Left Hand Sawtooth Ale, Gallagher's Cealidh Wheat, Gallagher's Hals Celebration, Goose Island Honker's, Silvery City Ridgetop Red, Pyramid Pale Ale, Manny's Pale Ale, Hopworks Velvet ESB, Alaskan ESB, Dogfish Head 90 Minute IPA, and Bell's Two Hearted Ale.
That's a lot of 4 star beers. I'm thinking I should run through them all again and see if they really are worth of their 4 star rating. Sounds delicious… challenge accepted!