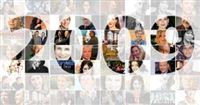 I prepared to write this post by looking back through the photos I've taken and reading last year's Year in Review post. The mere fact that Tyla appears prominently in it should have been a big clue to anyone who has followed my blog that this was something pretty serious. I finished with "What lies ahead? I've never been more excited to find out!" Now I know the answer to that, so let's start from the beginning.
The year started off with a bang as we celebrated the marriage of Tim and Chelsea. The wedding was a blast and the happy couple has just moved into their first house! That wasn't our only wedding of the year though. In March, Tyla and I took our first big trip together out to beautiful Syracuse, NY for Andy and Lauren's wedding where I participated in, and won, my first dance off.
Andy, Jay, Mike and I had planned a big ski trip to Big Sky, MT, but that took a very sad turn. I woke up in Spokane on the morning I was supposed to pick everyone up at the airport in Missoula to find out that Mr. A had passed away. It hit everyone hard. Andy and Jay cancelled their plans, but Mike and I went on with the trip. While the trip did not turn out exactly as we hoped Mike and I made the best of it and saw some amazing sights. I hope that the four of us can meet up again soon for another trip.
While I was in Big Sky, I got a tearful call from Tyla letting me know that she had been laid off from her job as a gymnastics teacher. It was a complete shock to her, and given the job market at the time, the future looked rough. It took over a month of hard work and countless emails, phone calls, and interviews to break through the mass of applicants and land a new job. I told her that when it was all done, I knew I would be impressed with the way she handled the situation, and that came true. When unemployment doesn't even cover your rent, it's more than a little scary but she showed a ton of determination and got through it.
Early in the year, I bought a new vehicle: a 2009 Kawasaki Concours 14 ABS. After four years of riding, it was time to upgrade to a bigger bike, and what an upgrade this one is! In a normal year, I average 2000 miles of riding. I already have over 5000 miles on this new bike from trips to Bremerton, the Tulip Festival, the Cascade Loop, Mt. Rainier, Mt. Baker, and many others. Tyla was sitting right behind me for many of those miles and it's a blast being able to share one of my hobbies with her!
Speaking of sharing hobbies, Tyla and I went skiing twice together. She had skied a few times before in Minnesota but still labeled herself as a beginner. I was impressed with her first day on the slopes at Snoqualmie and even more so when we headed up to Crystal. I hope that once we get married we can get her a full set of gear and go even more often.
This was also the year of concerts. We saw the Lion King, Wicked, Little Big Town, Kenny Chesney, Lady Antebellum, Miranda Lambert, Montgomery Gentry, and Sugarland. I think the Lion King was my favorite of that whole list. If you get a chance to see it, don't pass it up!
In June, Tyla and I flew back to Indiana for a quick three day weekend. In addition to giving her more time to talk to my family, it was great to show her where I grew up. Tyla and David became best friends, Tyla got to play with frogs, we swam in the pool, and we even got out in the canoe on the lake for a while.
My exploration of Washington continued with camping trips to Lake Easton State Park and Moran State Park. I think it will be the last time I visit Lake Easton. While it's a nice mountain park close to home, it's also VERY close to the interstate which ruins the feel of camping. But those aren't the only local trips I took. When Mom and Dad came to visit over Labor Day, Tyla and I took them on a tour of the Olympic Peninsula. We visited Hurricane Ridge, the Hoh Rainforest, and Ocean Shores.
Tyla and I had agreed early on that we wouldn't even talk about the possibility of marriage until after we had been dating for a year. After that milestone was passed in late July and after I had chatted with both of our parents, I didn't waste much time getting her into jewelry stores to figure out what she liked. And though she didn't know it at the time, I kicked off my birthday weekend by purchasing the perfect ring for her. I ended up waiting almost a full month to give it to her. Finally it was time to pop the question, so Tim, Chelsea, Tyla and I headed up to Whistler for a weekend in October. You can reread the proposal story if you want, but the short version is that she made my lifelong dreams come true by saying yes. We quickly switched gears into wedding planning mode. That's still in progress, but it's coming along nicely.
If I thought waiting for a month to give her the ring was hard, waiting another 6 months to actually marry her is even harder! I can't wait to start the rest of my life with her. There is no doubt that God meant for the two of us to be together for the rest of our lives. I'm proud to call her my fiancée, and I know she'll make a fantastic wife and (God-willing) mother.
As we entered December, cancer's lightning blow struck closer to me than ever before as Mom was diagnosed with kidney cancer. While the surgery changed our Christmases a bit, so far it appears to have done the trick. She's on the road to recovery and we'll find out how successful the surgery was in a few months when they run more tests.
So while there were some bumps along the road, as I look back on the year, I see a long list of memories with Tyla. Last year I finished with "What lies ahead?" When I wrote that, I knew what I hoped would happen and my silent wishes did come true. In just a few more months, there will be another Mrs. Martens in this world.
Previous Year In Review Posts: 2003, 2004, 2005, 2006, 2007, 2008