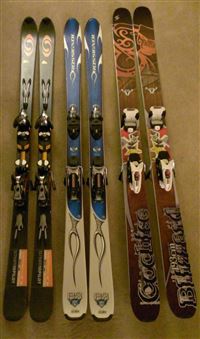 This year our company rolled out a new benefit. If you don't get the free gym membership, you can get $800 towards sporting equipment. When I read that line it took me about seven milliseconds to realize that I was getting some new skis! the only catch is that the purchase had to be made in 2013 and this is the worst time of the year to buy skis. Last year's stuff is sold out and this year's models are still full price. Oh well.
My last set of skis were the 2007 Rossignol Bandit B2's 182cm. I bought them because they were so fat compared to my first set of skis that I bought out in Jersey. After a year or two I realized that they weren't nearly fat enough for the type of snow we get out here. They were great skis and I'm keeping them around for hardpack groomer days, but I wanted something much wider with rocker technology.
After demoing skis at Crystal a couple weekends ago, I ended up deciding on the Blizzard Cochise. They felt incredible when I skied and they offered one of the longest versions of any brand: 193cm. I'm a huge guy so I need all the surface area I can get. My Bandits were 75mm at the waist of the ski directly under my boot. These Cochises are 108mm! After I skied on them during the demo day, I looked them up online and learned that they have received a couple Ski of the Year awards so I guess the reviews back up my limited test.
It turns out that many of the local ski stores don't carry the Blizzard line because they're not one of the bigger brands, but I was able to find it at evo.com which is based in Seattle. The order was placed on New Years Day and by Thursday morning, they were sitting on my doorstep along with Marker Griffon bindings. I drove straight over to Gerk's and they had the bindings mounted on the skis by the end of the day!
The new skis felt super light to me, but it turns out that's a bit of an illusion. One Cochise with binding came in at 7.6 pounds on my scale and one Bandit with binding was 7.1. But considering how much more size the new skis have, they are clearly less dense.
This leaves me with three sets of skis. The one on the far left was a used set that I picked up at a ski swap for pretty cheap. I sold those recently to help pay for the new skis. I'll keep the Bandits around for use in early season when the snow hasn't quite covered all the rocks.