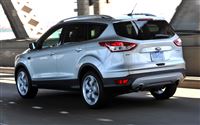 We've had our Escape for over a year now and we have just over 11,000 miles on it. I thought it was time for an update on our experiences.
The more I drive the car, the more I like it. Maybe it's because I drive an economy car but I'm regularly impressed by the smooth and quiet ride of the Escape. The car had a bunch of features on it that I never would have thought I'd really want but some of them have grown on me. The biggest one is probably the memory seats and mirrors. I'm so much taller than Tyla that switching drivers takes quite a while. For a family vehicle that we both drive regularly, this feature is awesome. The power lift gate has been very handy too. With one arm full of baby and the other carrying bags, we just swipe our foot under the back bumper and the rear hatch opens automatically. That hands free goodness also lets us unlock the doors and start the car, all without digging out a key.
I put our Ford My Touch/Sync/Navigation in the "meh" category. It's nice to have it all integrated and the big touch screen is good for displaying lots of info. The audio system has a bunch of inputs (radio, Sirius, USB, SD, etc) which is nice, but the actual user interface of the whole thing feels sluggish. Why can't we just have a head unit that is basically an Android/Apple/Windows tablet? This interface already feels a big sluggish and out-of-date. What's it going to feel like in 10 years? While I love having a nav system built-in to the car, I don't know if I'd shell out the extra wad of cash to get this whole system again, especially when I think how it could be done better with a tablet at a fraction of the cost.
It has been in the shop for one issue which was covered under warranty. The coolant bypass valve failed which made the check engine light come on. They diagnosed that quickly and while it was in the shop, the parts came in for a recall. We had them keep the car and do it all at once. Our car was the first time they had run through the fairly involved recall repair and they ended up a part short which added more time. Once it was all done, they had kept our car for a week but they gave us a loaner so it wasn't a huge issue.
I'm biased because my uncle works for Ford and pretty much everyone in my family drives a Ford. I was one of the oddballs who stepped out of the Ford family and went for a Subaru. But after driving this car, and after reading about what Alan Mulally has done at Ford in the past years, I'm pretty confident that our next purchase will be a Ford. The Subaru has just over 100K on it and is still going strong so if all goes well it will be a few years before we have to buy something new. But if I was buying a new car today, I'd probably go for a Focus as my commuter car for work. I'd love to get a big F150 but it's hard to justify the cost at this point.