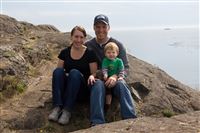 Big things in my life have happened on a four year cadence
1990: Moved to the "upper grade room" (5-8 grade.) It was a big deal in our two room school.
1994: Graduated 8th grade and started high school
1998: Graduated high school, started college at Purdue
2002: Graduated Purdue, moved to Jersey
2006: Finished grad school at Drexel, moved to Washington
2010: Got married
So 2014 should have been another major, life-changing event… but it wasn't. And for that, I'm thankful! This year was, predictably, all about raising our little man. I watched him grow from a bump on the carpet to a jabbering ball of energy that runs around the house. That's not to say that we didn't do anything though.
At the start of the year, I took my first remote controlled airplane flight. It was a new hobby for me and one that I kept up pretty well throughout the year, building a few planes myself and then getting my first "real" plane for my birthday. The other hobby that really took off (how's that for a segue?) this year was woodworking. It started with building some baby gates. I also built him a toy with lots of latches and family photos. Then later in the year I built a helping tower for Elijah (and five more for Tyla's friends), and I've just finished up a table and chairs for Elijah too. The woodworking is a great hobby because I can do it in little chunks of free time and I don't have to go anywhere to do it. The third hobby that I nursed along was shooting. We only went trap shooting a few times, but the last time there I shot 24 in a row before choking on the last shot that would have given me the elusive perfect round. I hope to get back there more in 2015.
In April we took a family vacation down to Portland. It was a short/close trip, but it was educational for us as parents. We were surprised by how much time we spent in the hotel watching Elijah sleep, but it was still fun and worth the trip. I also got to reconnect with Pastor Johnson. The last time I saw him was in 2004 in Minneapolis.
For Memorial Day, we flew back to Indiana to visit family and to attend the Indy 500. While it would have been a lot easier to go when I actually lived in Indiana, it was a blast. Dad, Luke and I went to a NASCAR race a few years back so it was fun to attend an Indy Car race with the same crew. Maybe next is Formula One?
Most of my summer was spent in the yard with Tim. I won't bore you with yet another recap (read the back yard and front yard details), but this was a huge undertaking. Tyla made it all possible by watching Elijah way more than normal and many of you pitched in to help with the yard work. Thank you to everyone who pulled together to make this happen! I'm still amazed at what we accomplished. Mom and Dad were here for the demolition part of the front yard project and it was fun to work side by side with Dad again.
While Mom and Dad were here, we also spent a couple nights at a rented house on Lopez Island. That was a relaxing trip (it helps having extra people to watch Elijah!) and a fun opportunity to explore the island.
One thing we didn't do much of was hiking. We took short hikes on Cougar and Squawk mountains. We've already said that we're not undertaking ANY big projects next summer. So hopefully the combination of more free time and Elijah being a little older will mean we can get out and do some more hikes. I regularly think about how different Elijah's youth will be from mine since he's growing up in a subdivision. That's not necessarily a bad thing, but I'm putting a focus on making sure he spends lots of time out in nature. I would love it if he grew up to be a good hiking partner!
I feel like I've always done a reasonable job of managing my time, but that skillset gets even more pressure when you're raising a kid. There are two ways to survive: be more efficient with your time or do less work. This year I was about as efficient as I think I can be. Next year, I want to take on less work and enjoy this special family time. Elijah is growing so quickly and I know I'll look back on these days and wish I could relive them. It's good encouragement to live in the moment.
Previous Year In Review Posts: 2003, 2004, 2005, 2006, 2007, 2008, 2009, 2010, 2011, 2012, 2013