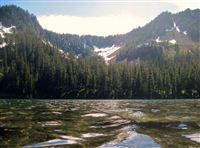 I've really had the itch to get some hiking and exploring done. Last Saturday the weather and our calendar finally aligned and we took advantage of it. I had planned to drive back down that dirt road that Tim and I found, but after chatting with a forest ranger on the phone, I found out that the trailhead was 7 miles beyond the closed gate because the road was washed out. After flipping through Beyond Mt. Si (fantastic hiking book!) we settled on Hike #20: Annette Lake.
It was a moderate hike with about 1900 feet in elevation gain over seven round trip miles. We set a good pace and made it to the top in good shape. Trip reports on WTA.org said that there was some ice around the edges of the lake last weekend but it was clear when we got there. There was some snow along the side of the trail and on the surrounding cliffs, but nothing we had to cross.
The lake is gorgeous. Brush and trees run right up to the edge of the lake in most places so there are only a few spots to access the lake. We found a small one, had some food, and braved the cold water. I made it in up to my knees and found it bearable once my legs were numb.
There's a beautiful campsite by the lake but it was occupied by some unbeautiful people who were doing their part to destroy the surrounding area. Leave it better than you found it, people. It would be fun to hike up there and stay at that site, but you'd have hikers walking through the middle of your campsite regularly.
This trail isn't too tough so it's a bit more crowded than some of the more remote alpine lakes. Still, it's past the more popular Tiger Mountain, Mt. Si and Rattlesnake Ledge hikes so that thins the crowd. Put this one on your list if you haven't been there already!
There are a few pictures below and a couple more in the photo gallery, but to really feel what it was like at the lake, you should check out this panorama which lets you pan and zoom. If you don't want to install Silverlight, you can click on the panorama below to vie the 9MB full sized panorama.