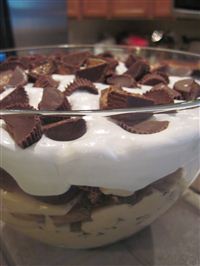 Tyla picked this one out of Taste of Home magazine and made it when her family came over for Father's Day. It makes a TON. The recipe says 20 servings but it might even be more than that. You can't eat much at one sitting because it's so rich, but it is delicious!
Ingredients

1 fudge brownie mix (13×9 pan)
1 pkg (10oz) peanut butter chips
2 pkg (13oz each) mini peanut butter cups
4 cups cold 2% milk
2 pkg (5.1oz each) instant vanilla pudding mix
1 cup creamy peanut butter
4 tsp vanilla extract
3 cartons (8oz each) frozen whipped topping, thawed

Prepare brownie batter according to package directions; stir in peanut butter chips. Bake in greased 13×9 baking pan at 350 degrees for 20-25 minutes or until a toothpick inserted near center comes out with moist crumbs. Do not overbake. Cool on a wire rack; cut into 3/4 in pieces.

Cut peanut butter cups in half; set aside 1/3 cup for garnish. In a large bowl, whisk milk and pudding mixes for 2 minutes. Let stand for 2 minutes or until soft-set. Add peanut butter and vanilla; mix well. Fold in 1-1/2 cartons whipped topping.

Place a third of the brownies in a 5-qt glass bowl; top with a third of the remaining peanut butter cups. Spoon a third of the pudding mixture over the top. Repeat layers twice. Cover with remaining whipped topping; garnish with reserved peanut butter cups. Refrigerate until chilled.