The Bacon Explosion recipe has been on my list for a long time. This weekend, I finally witnessed its splendor in person. After a long hike on Saturday, we all ended up back at Tim and Chelsea's house. Stephanie created some bacon and cheese patties to top the burgers and I made a smaller version of the Bacon Explosion.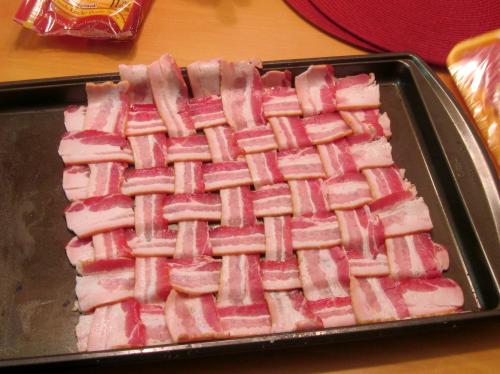 I started by creating a bacon weave. In the middle of that, I flattened about 2/3 pound of mild Italian sausage and then placed three slices of cheddar on top of the sausage. I rolled it all together, covered it in BBQ sauce and put it in the oven. The recipe says 225 for 3 hours but we didn't have that long so we attempted to cook it at 375 for about an hour. The internal temps got well over the 165 they recommend so we called it done and chowed down.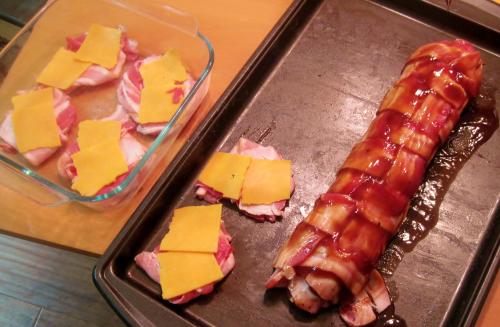 Delicious. I'm pretty confident that if any human ate the entire thing, they would die within 7 minutes of their last bite.
Do NOT bake this on a flat cookie sheet. You're going to end up with a LOT of grease in the pan! The next time I make this (and there will be a next time), I'll cover the pan in aluminum foil. I think we might have ruined one of Chelsea's pans in the process. Secondly, I'd see if I could put some sort of rack on top of the foil-covered pan so that the log isn't cooking right in the grease.
And since I'm sure someone will comment about this if I don't put it right in the post, yes, this actually made me drool. Chelsea was watching me as I pulled it out of the oven. I carefully cut it with the knife and a big ball of drool dropped out of my mouth onto the pan. (Luckily it was right on the edge away from all the food.) What can I say? It looked delicious!
The recipe I linked to in the first paragraph has a lot better pictures than the ones I took so feel free to peruse there if you need some more bacon in your jpeg.