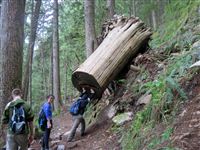 At the end of last week, Tim, Andy, Stephanie, Micah and I cobbled together a plan to go hiking on Saturday. Tim suggested Lake Serene up by his house so we grabbed our gear and set forth. This one is hike #35 in your textbooks.
The day was a bit wet and chilly, but we dressed and packed appropriately. The first mile and a half are a gentile incline up to the base of Bridal Veil Falls. The river comes down over 1000 feet in less than half a mile and the trail snakes right below the last free fall section. Somehow Tucker ended up swimming that pool for a bit, but even the misty spray was enough to suck the heat out of my body.
From there the trail started climbing steeper and it was quite rocky and wet in many spots. There have been a lot of blowdowns and slides along the trail but they were almost all moved out of the way by volunteers. Because of the steepness of the second half of the trail, there are endless switchbacks and stairs built into the hillside. This trail gets a lot of traffic in the summer. If those stairs weren't there I imagine you'd have a big muddy mess.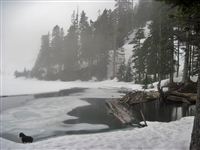 We reached the snow with about half a mile left in the hike. It was 3-4 feet deep in places, but the path was well tracked so we didn't sink in very far. We arrived at the lake to find it frozen as expected. It will be fun to do this again in the summer and see how different it looks. Mt. Index rises from the opposite side of the lake and adds a very imposing backdrop to the lake.
All in all it's about 7.5 miles and 2200 feet of elevation gain. Poles aren't required but were a big help in the muddy and snowy sections. Both hiking books that we looked at rated the difficulty as 3 out of 5.
I didn't want to risk the nice camera in the heavy mist/rain, but I did bring the little point and shoot to document the trip. Photos are in the gallery tagged with "Lake Serene."