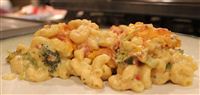 I tried making baked mac and cheese a few weeks ago and it turned out gross. I found a new recipe that was supposed to be healthier. We changed it a bit by using broccoli and tomatoes instead of spinach and it was fantastic! I've included that change in the recipe. You're supposed to do a bread crumb topping, but I read that can get mushy if you refrigerate leftovers so I topped with some extra cheese instead.
Ingredients

6 tablespoons plain dry breadcrumbs, (see Tip)

2 teaspoon extra-virgin olive oil

1 package of frozen broccoli thawed

1 can of fire roasted diced tomatoes

3 1/2 cups low-fat milk, divided

6 tablespoons all-purpose flour
4 cups shredded extra-sharp Cheddar cheese

2 cup low-fat cottage cheese

1/4 teaspoon ground nutmeg

Freshly ground pepper, to taste
16 ounces (4 cups) whole-wheat elbow macaroni, or penne

Directions

Put a large pot of water on to boil. Preheat oven to 450°F. Coat a 9×13-inch baking dish with cooking spray.
Mix breadcrumbs, oil and paprika in a small bowl.
Heat 3 cups milk in a large heavy saucepan over medium-high heat until steaming. Whisk remaining 1/2 cup milk and flour in a small bowl until smooth; add to the hot milk and cook, whisking constantly, until the sauce simmers and thickens, 2 to 3 minutes. Remove from heat and stir in Cheddar until melted. Stir in cottage cheese, nutmeg, salt and pepper.
Cook pasta for 4 minutes, or until not quite tender. (It will continue to cook during baking.) Drain and add to the cheese sauce; mix well. Spread half the pasta mixture in the prepared baking dish. Spoon the broccoli and tomatoes on top. Top with the remaining pasta; sprinkle with the breadcrumb mixture.
Bake the casserole until bubbly and golden, 25 to 30 minutes.