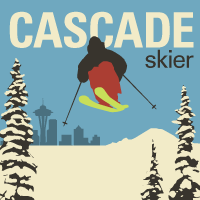 I've spent way too much time working on my most popular Windows Phone app this winter. Version 3.0 hit the marketplace in November and I just released version 3.5. There have been numerous updates for various things but biggest changes were support for multiple live tiles and live tiles that flip over to reveal a one day weather forecast. The updates have been very well received and it's very rewarding to see the positive reviews fly in. Right now this is the #10 paid app in the sports category. I realize that's not saying a LOT, but I'm still proud of it.
A few years back you may remember that I tried to start a website called cascadeskier.com. That was where the gadget first started and then the Windows Phone app came later. The site was supposed to be devoted to the Pacific Northwest skier. I cancelled it after a few months because it was way too much work for one person to handle and I wasn't getting the kind of traffic numbers that I was hoping for. I was fed up with the whole thing and I let the domain name lapse. Big mistake. I regretted it pretty quickly, but a squatter had purchased the domain. I patiently waited for two years until they gave up on the domain and then I bought it again.
So now if you head to cascadeskier.com, you'll see a simple page showing off the Windows Phone app and the Windows 7/Vista gadget. There's also a demo video showing off the current version of the app.
The astute among you will notice a hint at a Windows 8 version on the site. I've played around with it a little, but I really need to devote some major time to that. I think I'm going to slow down on the Windows Phone app updates for a while and focus on Windows 8.