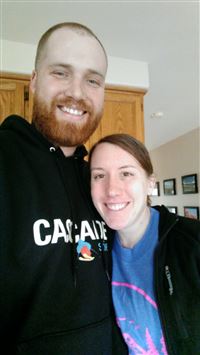 I've gotten used to having my hair cut pretty low. I like being able to cut it by myself for free whenever I feel like it, and I like being able to wear a hat or helmet without getting hat hair. This winter I've been supplementing the short hair with a beard.
It started around mid-November when I had my sinus surgery. It hurt to shave so I let the beard go for a couple weeks. That's also about the same time I got hooked on Duck Dynasty and those guys have some great beards. That was also about the time that the ski season started and a beard works really well to keep your face warm when you're skiing.
When I was growing up, I remember seeing a photo of Dad with a beard and I just thought it was so hilarious that my clean shaven Dad once had a beard. I don't have a copy of it anymore and I don't even know if I remember it correctly, but I remember it being a fun moment in my childhood. Part of me wants to keep the wild beard going and photo bomb my child in the hospital. "Daddy? Who is this homeless guy holding me in the hospital?" I'm not sure I'll take it that far though. While I love not shaving, I think I might break out the razor once the ski season ends.
And no, the color on that photo isn't wrong. My beard is red and my hair is blonde/brown. I don't know how that works.