When Tyla and I walked through this house in the fall of 2011, we loved a lot of things about it, but the master bathroom was not one of them. It was almost a deal breaker. In the end we bought the house with a plan to save our pennies for a remodel as soon as possible. When that positive pregnancy test came around, I tossed out my hopes of doing some of the work by myself and started the search for a general contractor to run the project. The project should be completed in the next couple weeks, but before I get to the pictures of our new bathroom, I figure it's worth spending a post talking about what was there before.
I'll start by saying that I know some of you have these features in your current bathrooms. That's fine! Everyone likes different things and has different priorities. Just because we changed out something in our bathroom that you have in yours doesn't mean we think you should do the same in yours (or that we even notice!) But I do think it's useful to talk about this kind of thing. When we were shopping for houses, we learned a lot about what we like and don't like. That info was supplemented by talking to friends about their preferences. The only way you can really form your own opinions is to see lots of ideas and hear what other people think so I'll give you one more data point.
This is one of the few projects where I actually remembered to take a bunch of "before" photos. The one below gives you the basic idea of what we started with. This photo looks towards the sinks with the reflection of the tub and shower in the mirror. The door to the right goes into a small room with a toilet.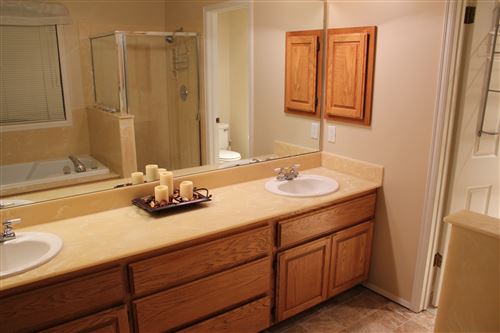 Actually this isn't exactly how it was when we bought the house. There was originally carpet on the floor, but we knew that was one thing we wanted to change. When we had new carpet installed before we moved in, we didn't put carpet there and I laid some vinyl so we didn't have to walk on the subfloor.
The entrance to the bathroom is to the left of this photo. What you can't see is that there is no door to the bathroom. Some people like that, but it felt so odd to us (in addition to being too noisy when we got up at different times) that we have been using the guest bathroom the entire time.
I'll include a full project list when I post the "after" photos, but some of our top goals were to add a door to the bathroom, get rid of all the yellow synthetic marble stuff, and tile the floor. That meant that the bathroom was pretty much taken down to the subfloor and studs. The contractor estimated this at as a six week project and he's on track to hit his estimate almost to the day. His cost estimate is coming in right on target too. I'll reserve a full recommendation until the final tasks are crossed off the list, but we've been very happy with our choice so far.
While the project is six weeks on the calendar, the last couple weeks are mostly waiting around for the counter top and the shower glass to get templated, cut and installed. It's hard to pay somebody for work that I could do myself, but I would have had to subcontract chunks of this out anyway. It was also hard to contract this out after watching Tim redo their bathroom by himself. His end product is extremely impressive and comes with a huge sense of accomplishment. All I get for contracting our project out is a hole in our bank account. But after I see how much work they put into it, I know it would have taken me forever and there's no way I would have finished before the baby arrived. The bid included 236 hours of work. If you assume that it would take me twice as long as a professional and if I could find 15 hours a week to work on it, that's 31 weeks of work!
I know this post is kind of a tease, but we're hoping to have the second, more interesting post ready by mid-February. Stay tuned!