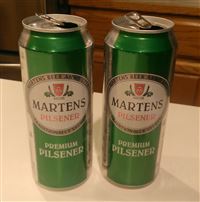 Late one night a few years ago, I discovered a Martens Brewery in Belgium. For a 255 year old brewery, they have an embarrassingly bad website that stymied my attempts to learn more about them. Here's what I do know. The brewery is in Bocholt Belgium and it was founded in 1758. Their signature beer is the Martens Pilsner, and like me, it's tall. It's sold in 16.9 oz cans. I don't know how big they are, but they do seem to be distributed around the world since I found a Taiwanese commercial for Martens beer. But that's about where my research ended. I couldn't figure out how to buy any.
When Andy and Stephanie showed up to watch the Super Bowl, he had a four pack of Martens Pilsner! Apparently they sell it at a local Whole Foods, and after checking the Total Wine website, I think they might have it too. I was so excited to finally get to try it! At the risk of offending my namesake brewery, the beer isn't anything to special and is reminiscent of a Coors Light. Then again, I'd say that about a lot of pilsners. Yes I realize they're different types of beer, but they're so different from my normal beer that they kind of blend together in my memory.
So now I have a source for Martens beer. My quest continues to find t-shirts, hats, neon signs, pint glasses, or anything else from the brewery. This might require a trip to Belgium.