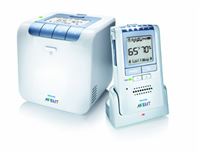 We've gone through lots of books and Amazon reviews trying to find the right products for our home. Here are a few of our favorites:
Baby Bargains – This book was the key to a lot of our planning before our baby arrived. It has great advice about what you need and what you can skip as well as detailed guidance about what to look for in each item. Each section finishes up with specific recommendations for every budget. If you only get one thing off this list, this is probably the one to get.
LeapFrog Learn & Groove Musical Table – No other toy has gotten as much use as this one. When he was very little, we propped this up on two of it's legs for him to play with. Now that he's standing up, we have all four legs on it and he'll spend a lot of time walking around and around playing with all the different sides. As a bonus, it has an English/Spanish switch so I've been learning some Spanish. "Cuadrado… ROJO!"
Philips AVENT Baby Monitor – I recommend that you don't get a video baby monitor. You'll end up staring at it all night long and they're generally not very secure. We went with this monitor from Philips. It has built-in encryption so you're not going to get someone listening in or talking over your channel. We also opted for this fancy model that shows the room temperature and humidity right on the remote. It will also alert you if either of those fall outside of a range of values that you set. The temperature in particular was really useful on hot summer days and really cold winter nights. You can save a few bucks by skipping those features though and it would still be a great monitor.
Value Village – Ok this isn't really a specific thing, but I'm so thankful that Tyla loves Value Village. I think we've only paid full price for a couple baby outfits. Everything else is either a hand-me-down or secondhand from Value Village or a consignment shop. Tyla finds great toys there too. You don't have to pay full price for something your kid is only going to wear four times before they grow out of it.
Portable Speakers with SD Card player – Instead of buying a dedicated white noise machine, we bought this very simple radio/SD Card/USB portable speaker gizmo. It has a built-in rechargeable battery. We paid less than $20 for it and then downloaded a 1 hour long white noise soundtrack for $1. It works awesome and we can easily move it from room to room as needed. Unfortunately it doesn't look like it's available from Amazon anymore but there are many other products like it.
Baby Carriers – We have a couple of these and they are fantastic. Please do your research as there are popular carriers out there which can have a pretty negative effect on your baby's development (or even a good carrier can be worn incorrectly.) We loved both the Moby Wrap and the Pikkolo with the Babywearing Belt. The Moby is great because it's cheap, easy to wash, and fits both Tyla and I easily. We've started using the Pikkolo as he has gotten bigger because we think it handles the additional weight a bit easier.
Miracle Blanket – We don't swaddle him anymore, but when we did this worked a lot nicer than a standard blanket. Buy at least two of them because you'll always have one in the wash.
Oxi Clean Baby – We keep a five gallon bucket in the garage filled with about 3 gallons of water and a scoop of this. Any poopy clothes soak in there for a few hours before getting washed and we don't have many problems with stains.
Glider Rocker – These rockers are available at lots of places but we went to a nice furniture store and got a high quality one. It seemed a bit extravagant to me at the time, but I'm so glad we got it along with the rocking ottoman. This chair is almost always occupied! It's so comfortable and is stain resistant. (The specific rocker we got is listed as "bestc-C8107GP Glider Rocker" on this page.)
We haven't really regretted too many of our purchases. That's good because there's plenty of money to be spent on a new baby. Choosing incorrectly gets expensive!