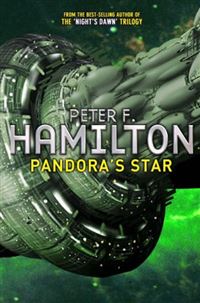 I heard about Peter F. Hamilton from enough distinct sources that I decided it was time to dive into his books. I started by reading Pandora's Star and Judas Unchained. These two books go together and tell the story of our future as humans invent wormhole technology. I enjoyed the story but it was a bit too long in some places.
The Void trilogy (The Dreaming Void, The Temporal Void, and The Evolutionary Void) continues in the same universe, the Commonwealth, as the first two books. Some of the same characters appear too helping to tie the two stories together. This one too took a while to get going but finished strong with the third book. If I hadn't had such strong recommendations for it, I don't know that I would have stuck it out.
All five books land in the 3-4 star range for me. They're good books, but they could be great with some pruning.