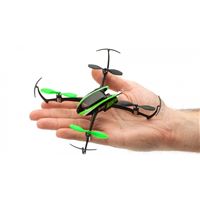 A newfound RC addiction in the middle of the rainy season in Seattle is a tough combo. Thankfully, indoor RC has been making tremendous progress in the last couple years. One of the products near the top of the list right now is the Blade Nano QX. It's a tiny little quadcopter that flies extremely well. You don't need much space to have a lot of fun. If you've been to our house, I regularly fly it in the man cave and downstairs in the living room/kitchen. I've even taken it outside a couple times when there is no wind.
The Nano QX comes in two packages. One is the RTF (Ready To Fly) and it includes a transmitter. The other option is BNF (Bind aNd Fly) which requires you to have your own Spektrum transmitter. If you're just getting this as a one-off toy, then the RTF is probably the model for you. But if you're buying other planes and helis  that use Spektrum receivers then BNF can save you money since you don't need to keep paying for new transmitters.
My previous favorite in this area was the Syma 107 helicopter. That is a lot of fun for a very low price, but it doesn't take too long to master it and then you're a bit bored. Plus, I flew mine so much that I wore out the motor. The Syma has throttle, rudder and pitch. The Nano QX adds aileron so you can move side to side as well. It gives you a lot more control but it also is more of a challenge. Don't worry about the learning curve though. The Nano can stand up to a beating, but if you do have some trouble, a second set of blades is included in the box. You can also replace everything else piece by piece if needed.
The awesome guys over at FliteTest.com have a video about the Nano QX as well. Give it a look and I bet you'll want to buy one!