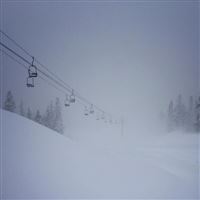 This has been a very bad year for skiing in the Pacific Northwest. The bad weather, combined with my lack of free time, means that I haven't had any days on the slopes yet. That all changed about a week and a half ago when a series for storms started hammering the mountains. They were receiving about a foot a day every day.
On Sunday night, Crystal received two feet. Then on Monday they had to stay closed all day because of a power outage. On Monday they got another foot and a half leaving 3.5 feet of untouched snow and 66" in four days. I took Tuesday off and headed for Crystal.
This ski trip was a lot different than last year given that we have a baby at home now. Also, Tyla wasn't feeling well so I wasn't sure I could even go. The night before, I decided to relax and just take it as it comes. I wouldn't worry about getting first chair, planning an attack on the mountain or anything like that. It's a good thing I took that approach.
First I left the house about 20 minutes late as I took some extra time to make sure Tyla and Elijah were off to a good start with their day. Traffic and slow drivers in the snow added another 40 minutes to the normal trip time. That meant I hit the Crystal parking lot at 9am (when the lifts open) instead of the 8am I had planned. Once I got up to the ticket counter, I discovered that their online system for buying tickets had been offline so the normally short lines were HUGE. It took 30 minutes to get a lift ticket. Oh how I missed my season pass from last year!
Only Chinook Express and Forrest Queen were running while ski patrol detonated lots of avalanche bombs to make the shaky snow pack safer. I took some easy runs while I waited for more interesting lifts to open. The lines were enormous as all of the powder hungry skiers and kids on mid-winter break crammed on to the two lifts. Rainier Express finally opened and, after a 30 minute wait in line, I made it to the top. Down below, the snow was falling very fast (1-2" per hour according to the telemetry), and up top it was WINDY. The sensors were showing 30 mile an hour average winds with gusts well over 50mph. Throw in the very thick cloud layer and it was almost impossible to see up there. Now add in that 3-5 feet of fresh snow and wow, it was a crazy situation. These are the types of days where you really do need a partner to stay safe up there. It's so easy to fall into a tree well or get stuck somewhere. It was so bad that I actually called it quits for the day. Even though I had only been there a few hours, I got stuck in the parking lot trying to leave. Thankfully I had remembered my shovel and was able to dig myself out and get traction with some old t-shirts in front of the tires.
It sounds crazy, but apparently you can have too much snow… or maybe I'm just getting soft in my old age.
UPDATE: I wrote this on Tuesday after I got home. Later, I learned that a skier died on Monday at Stevens Pass (hit his head on a rock) and a skier died at Crystal on Wednesday (stuck in a treewell and his buddy couldn't reach him in time.) Couple that with numerous in-bounds avalanches triggered by ski patrol with explosives and I think it validates my decision to come home early. The mountains are no joke.