We're back from our 10 day Caribbean cruise! It was an incredible adventure which we thoroughly enjoyed. Our last cruise was with Royal Caribbean and we visited the western Caribbean. This time we went with Celebrity and cruised the eastern Caribbean. I have thousands of pictures and videos to work through. I do plan to post the best photos to the photo gallery and make another video of our trip, but until then, I thought I would post my very lengthy (11 pages, 6500 words) cruise journal. Every night I would write for a bit about what we did that day. I honestly don't expect many (if any) people to read this, but I do want it recorded for posterity. Stay tuned for some more concise posts that will probably be more interesting.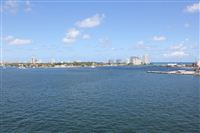 Friday, March 16, 2012
We arrived in Fort Lauderdale and had retrieved our bags by about 1:10AM. The hotel shuttles had quit for the night so we waited in a very long line for a taxi and finally crashed into bed around 2AM local time. Thankfully the 3 hour time difference worked in our favor and we weren't too tired.
Our ship tickets said that boarding was between 1 and 4. Last time we arrived right at 1 and were surprised at how many people were on the ship already, so this time we tried to get on board a little earlier. We arrived at the terminal a little after noon, walked right through with almost no lines and got on the ship! Our room wasn't ready yet but we had a nice lunch at the buffet while we waited.
It's a much different feeling getting on the ship this time. Last time we were amazed at every turn, but this time it was more of a comparison to our previous experience. This ship, the Celebrity Equinox, is very similar to the Royal Caribbean Liberty of the Seas. Celebrity and Royal Caribbean are two different brands by the same company and the two ships were built at nearly the same time. It's still very exciting, but in a different way.
We walked around the upper decks by the pools, took a little nap, enjoyed dinner in the main dining room and spent a little time in the hot tub after dinner.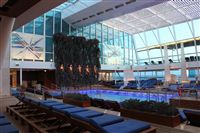 Saturday, March 17, 2012
When we booked the cruise, we knew that Celebrity was the "upscale" brand compared to Royal Caribbean. The amenities are a little nicer, but I think the biggest difference is the age group. It's like we took the people from our last cruise and added 20-30 years to them. It's not an exaggeration to guess that 80% of the people on this cruise have grandchildren. I think it's largely a function of the type of activities offered on board. There are a lot less athletic games and late night clubs. It's very easy to get in the relaxing groove here!
At lunch today we happened to meet up with a couple that we ate lunch with yesterday. They're from England and we've been having fun chatting with them. We've been helping them translate some American culture. For example, today we were trying (unsuccessfully) to explain what root beer tastes like. Unfortunately there isn't any root beer available on board or we could have just handed them a glass of it.
We spent some time relaxing on the top deck in the sun today. It's pretty windy up there since we are underway. The relative temperature with the wind is in the mid-70s. It's warm enough to feel the sun but you don't get sweaty sitting outside.
Tyla was perusing one of the shops while I stood outside looking into the casino. There I witnessed a "slot machine tournament." It consisted of 8 people furiously smashing buttons to see who could get the most points in three minutes. Every minute you would switch either to the right or the left so there was very little you could do to guarantee your victory. The second time they played, they couldn't get an 8th player so I volunteered. It was pretty funny and I didn't win, but we got a complimentary $5 to spend on the slot machines and we promptly lost that.
Dinner tonight was one of our two formal nights. We had a different waiter than last night and really enjoyed this one. We'll have to see if we can request him tomorrow. He convinced Tyla to eat one of her favorite animals: frogs! After dinner we went in to the theater to watch the show called "Equinox." It was something like Cirque du Solei with lots of acrobatics.
We have two full days at sea before we get to St. Thomas. It's about 900 nautical miles and we're averaging about 17.5 nautical miles per hour. Then we hit five islands on five consecutive days and then have two days coming back home.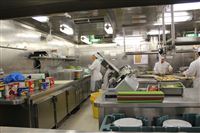 Sunday, March 18, 2012
After attending the late show last night, we didn't get in to bed until about 12:30 which, when combined with lingering jet lag, meant that we slept in a bit this morning. We woke up just before breakfast ended in the main dining room so we went there instead of the buffet like we always have before. The food was pretty good, but I think for simplicity's sake, we'll probably eat at the buffet for breakfast in the future.
Immediately after breakfast, we went into a different part of the main dining room for a behind the scenes tour of the galley. One of the head chefs led us through the main kitchen. They serve about 14,000 meals per day! It's incredible how much food flies through that kitchen. Nearly all of it is brought on board on embarkation day and carefully stored on the lower decks so that it's fresh even on day 10 of the cruise. And with 2800 visitors and 1000 crew on board, there are a LOT of dirty dishes. Their dishwashing machines cover an entire cycle (including drying) in just 30 seconds. There was some time for Q&A and one of the most interesting questions was what they do with all the food waste. Pretty much all of the foodwaste is mixed up with sea water and then dumped into the ocean once they are at least 25 miles from land. The chef joked that they feed the fish and then catch them.
After the tour, we went up to the grass lawn area to watch a glass blowing demonstration. They have a whole studio up there in cooperation with the Corning Glass Museum.
The rest of the day was spent lounging around the decks. We didn't eat lunch in the buffet since we had a late breakfast. Instead we snacked on burgers , hot dogs and fries from the grill up on the top deck. Then later on we visited one of the smaller cafes for some gelato.
We haven't spent a lot of time in the room today, but when we do come back here I have been flipping on the TV to catch glimpses of the NCAA tournament. There isn't a lot of live TV available on the ship, but there is one channel that flips back and forth between the various games that are going on.
We heard today that Celebrity is the "top rated premium cruise line in the world." I'm not sure exactly what that means since I know there are extremely nice cruise lines with smaller crowds, but it's still interesting to experience this. They also said that the Equinox has won their internal company award as the best cruise ship experience for the last two years.
The show tonight was a jazz musician who has toured the world and is frequently on some radio stations like NPR. He played the violin and went through an incredible variety of music from Charlie Daniels to Mozart and Riverdance. He had the ship's orchestra and a string trio that is also playing on the ship backing up. At the end of his set he called up his five year old son who made his big debut and played Twinkle Twinkle Little Star and then sang Amazing Grace with the orchestra and his Dad playing behind him. And then he called up his three year old son who couldn't play yet but had a little mini violin and bow and knew how to hold it under his chin. He followed his Dad around the stage pulling the bow back and forth while his Dad played. It was very cute and it went over extremely well with the audience full of grandparents!
Tonight we tried to find a good spot on the ship to star gaze and we ended up on the top deck near the front of the ship. We found out that you can't get to the helicopter pad on this ship which was the best spot to watch from on our last ship because they left the lights off. But this spot was pretty good and we had some nice music wafting up from the pool area. I, of course, got distracted and ended up taking some nighttime pictures of the ship. Even though the ship bucks quite a bit, you can get a great long exposure since the whole ship moves at once and everything else around is blackness.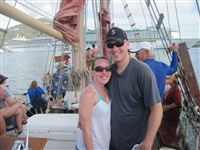 Monday, March 19, 2012
I'm almost at fifteen hundred words already and I haven't even started writing about our fourth day! If I got to pick one day from our trip so far to do over again, it would be today. We woke up this morning as the ship pulled into St. Thomas. It's a gorgeous island, and since it's a US Territory, we felt right at home. Shopping came later though because first we were off on our excursion.
This one was called "Cruise to Christmas Cove and Honeymoon Bay." We boarded a pirate ship with 33 other people plus three crew members. The boat holds 49 so there was plenty of room. We started by motoring/sailing out to Christmas Cove where we hopped in the water with snorkel gear and got a guided tour around the cove. We spotted sea turtles and swam over a reef. We decided to put our little Kodak Zx3 to the test and I jumped right in the water with it. Thankfully the "waterproof" line on the box has lived up to our expectations so far and I think we got some fun videos.
We got back on the boat and they started dishing out the rum punch. We've come to expect stinginess when it comes to drinks on these excursions, but wow, you could not physically outdrink their generosity. I went below decks and saw a room full of about 20 bottles of rum. They were well stocked and weren't afraid to keep refilling your glass.
We sailed over to Honeymoon Bay and on our way over, the skies opened up and it poured on us for a bit. It was enough to soak us but it didn't last too long. There was only one other excursion there so we had the beach mostly to ourselves. Tyla and I opted to swim to shore instead of waiting for the dinghy. Thankfully we hadn't had too much rum so it was an enjoyable swim. Once on the shore we had a delicious barbeque lunch and then played a very rousing game of beach volleyball. It turns out that in a group of older cruise guests, I stand out as a good athlete.
It's hard to describe how fun this was, but you really had to be there to witness the guides. Our captain (Jim) was a 74 year old quiet guy who had been doing this for 30 years. The main character (Jason) was a Texan who seemed to thoroughly enjoy his job, and the third crew member (Rikki Dee) was a girl who had been doing this for about four months and led the snorkel tour. They were all wonderful people and either they really were having fun with us or they were so good at acting that I don't care. I'd love to do the trip again just to hang out with them.
After a swim back to the boat, a couple flips off the railing in to the water, and some more rum punch, we ended up back in port with about an hour to spare. We did a little shopping and sent postcards back to our parents. Since it's a US Territory, there was a USPS office right there and it was all incredibly convenient.
I've mentioned that this ship has a lot of nice extra amenities. One good example is when we got back on the ship today. There were people there waiting to give us cold towels to clean up with after getting sweaty on shore and another employee was there passing out small glasses of water and fruit punch. It was completely unnecessary, but it was a nice touch.
We watched the ship start to leave port from the top deck and then watched the rest of it from the privacy of our balcony. Tonight's dinner was delicious as always and now it's time for a little bit of an earlier bedtime since we have an early start tomorrow. The ship arrives in St. Kitts at 7am and leaves at 3. Good night!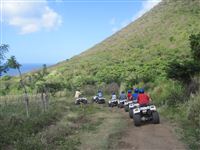 Tuesday, March 20, 2012
It must be a good vacation because when I sit down at night to write up the day's activities, I not only have to look up the date, but also the day of the week!
Today we landed on the beautiful island of St. Kitts. We were signed up for the "Quad Biking and Beach" excursion. A bus took us through town, naming off some key locations along the way, and we ended up at a little plantation where our ATVs awaited us. If you remember that we're on a cruise full of grandparents you can probably imagine how quickly the tour moved down the trail. Thankfully the guides put Tyla and I in the back of the line so we could lay back and have some fun as we caught up to the group. But even at a slow speed, it was really interesting to climb part way up the volcano past farms and old sugar cane equipment. We paused at the top of the trail for a beautiful view over the bay. I got some time to talk to one of the guides named Addison. I told him that I work with a guy from St. Kitts and they were both very interested in that. The island is converting its main industry from sugar cane to tourism. They built a huge pier to hold 6 cruise ships in the late 90s and it was immediately destroyed by a hurricane leaving only room for 2 ships. The island is poor and only has 40,000 people so they're still paying off a pier that is only a third of what it originally was! But the tourism is picking up. The guides didn't seem too impressed and thought that they should have stuck to farming, but the government does what the government wants to do. We asked them about the numerous colleges that we saw along the way. Apparently there are a few big veterinary schools on the island populated mostly by foreign students. There are no laws for animal cruelty on the island so vets will come here to learn without oversight by a government. Again, our guides weren't very impressed with the schools because they are so expensive that local people can't attend. The guides talked about some of the dangerous animals on the island one of them was the centipede. It has two pincers on the front that will give you a nasty sting and would probably land you in the hospital. They had caught a live one the day before and removed its pincers. Tyla and I both held it and snapped photos with it. They said anyone from St. Kitts would freak out if they saw the photos because people normally run the other way screaming when they spot one.
This tour was probably our least favorite one, but it was still interesting and I don't regret doing it. If you're looking for anything beyond a leisurely cruise down some dirt roads, this probably isn't for you.
It was an early departure from St. Kitts but we had time to pick up a little souvenir in the cruise terminal area and I tried one of the local beers (Carib.) Once back on board, we ordered room service and sat on our deck to watch as we left port. We're now steaming through the night to Barbados at the southern end of the Caribbean.
After a delicious and delightful dinner with our favorite servers, Karim (from Turkey) and Darel (from Jamaica), we hopped in one of the outdoor hot tubs for some relaxation. We started talking about what it would be like if we both live to see our 50th wedding anniversary. I said, "When we're having our 50th wedding anniversary, we'll be on a space cruise instead of a Caribbean cruise." Tyla said, "I'd rather do this one." "Really? You don't want to go to space?" "No, it's too far."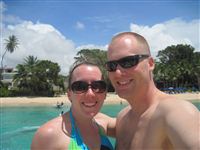 Wednesday, March 21, 2012
Today marks the halfway point in our cruise! It takes a few days to really get into vacation mode, and I guess I'm there, but I do still find myself thinking about work or projects that I want to do at home. Are the days of really falling headfirst into a vacation over or am I just not giving in enough? I don't know the answer, but I'm enjoying the trip!
Today we landed in Barbados and our excursion was the "Tiami Five Star Catamaran and Sea Turtle Snorkeling." We took a short bus ride across the harbor and boarded a large catamaran. I never counted the number of people on board but it was probably around 50 and the boat was maybe 2/3 to half full. We sailed/motored to the first stop where we got to snorkel with turtles. The experience felt very fabricated compared to our first excursion because this time they were feeding the turtles, but this time the turtles came extremely close. The underwater video camera worked out great again and we got some good shots.
Then it was back on board to head over to another spot that was an underwater marine park. There were a lot of big coral formations with hundreds of fish of all kinds. There was even a ship wreck in some fairly shallow water.
Once we were back on board, they opened the bar and we enjoyed some delicious rum and local Banks beer. I had a Carib beer in St. Kitts yesterday and I thought that one was better, but free beer is free beer. Our final stop was the most beautiful beach I've ever seen. It was ruined a bit by the beach chairs and jet ski rentals, but still, it was incredible. I guess Barbados is known for beaches like this and it makes me want to go back to explore more of them. Finally we sailed back to the harbor and took the short shuttle ride back to the boat.
We did a little shopping in the cruise terminal like normal. It's never the best place to find unique gifts at a fair price, but since we do excursions, we don't have time to go into the real city to find better deals. So we always laugh when we see the thing we bought in the last port in the new port with a different country name on it. Such is life. I did pick up a Mt. Gay Rum shirt here which made me happy. Barbados is the home of Mt. Gay Rum. I asked one of our tour operators how he drinks it since I usually just drink it straight at home and he said he likes to add some soda water. I'll have to give that a shot.
As we left port, I had the camera set up on the tripod on our balcony. I've been capturing timelapse shots as we leave each port. I'm not sure how interesting it will be when it's all pieced together, but it seems like a decent idea. The only downside is that the shutter click every three seconds is probably annoying Tyla and our neighbors.
We continue to get to know our waiters better and better. The hostess knows that we love them and makes sure to sit us in their section. Tonight we were chatting with Darel about his life on the ship. He said he has signed an 8 month contract and he'll work with three or four different waiters over that period. (He's an assistant waiter.) He said the people who work in the main dining area will be paired up with a different head waiter for every cruise so the select dining offers a little more stability which is good or bad depending on how you get along with the waiter. After he leaves the ship, they'll ask him how long he plans to stay at home and then he works with them to figure out where his next contract will take him. 8 months is the longest contract we've heard about yet. Most of them seem to be in the 4 month range. I don't know if you get to pick how long your contract is or if it's different based on your position or seniority. The whole cruise ship industry is very intriguing to me. I wish I could sit down with someone and ask 100 questions about stuff like this.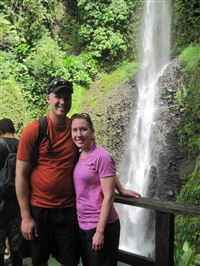 Thursday, March 22, 2012
Today's port of call was Rosseau, Dominica. Up until today, I had been pronouncing it completely wrong. I learned that it's Roh-soo, Doh-mi-nee-ka. However you say it, this island is gorgeous. They call it the eco-tourism capital of the Caribbean and it's easy to see why. There are 365 rivers on the island (one for every day of the year) and 12 major waterfalls (one for every month of the year.) Our excursion today was a hike along one of the rivers to one of the larger waterfalls, Middleham Falls.
We met our excursion at the end of the dock and hopped in a van along with the 11 other guests on our trip. The drive through town and up to the trailhead was quite the experience. After we got out of town, we quickly climbed up 2000 feet on a very steep, narrow road along the side of the mountain. You've never seen a road with this many turns in it! Our tour guide says that in Dominica if you're not going up, you're going down and if you're not turning left, you're turning right.
The excursion is one of the few trips listed in the Celebrity books as "strenuous" and that's a good label for this one. I've been on tougher hikes, but this one was pretty high on the list mostly because it would be very easy to sprain your ankle or take a tumble. The roots grow very thick right on the surface of the ground and closer to the waterfall, there are lots of wet, mossy rocks requiring a scramble on all fours.
There was one older couple on the trip who severely underestimated the hike and probably should have turned around, but the guide was intent on getting them to the falls. It took the rest of us about 45 minutes at a leisurely pace to get to the falls and it took this couple an extra half hour. Along the way we chatted with one of the ship crew members, Mauricio, who was enjoying a day off. It was really interesting to talk to him and hopefully he didn't mind us peppering him with questions. He's from Mexico City and is on his first 8 month contract. He started off with the boat in the Mediterranean and then sailed with it across the Atlantic. Along the hike we found some vines hanging from way up in the trees and Mauricio and I played Tarzan for a few minutes.
The falls really were beautiful. They're about 300 feet and end up in a beautiful pool. The hike down from the viewing platform to the pool was pretty sketchy. Tyla and I made it most of the way down in an attempt to swim in the pool but finally gave up. If we were at home I might have tried it, but the idea of breaking an ankle in the middle of a Caribbean island did not seem appealing. But still, it was a beautiful hike with a gorgeous payoff.
The hike back took us about the same amount of time and we all waited at the trailhead for 30 minutes as the couple made their way back. We hopped back in the van and made a quick stop at a hotel in the mountains for some very potent rum punch and beautiful vistas. Then we made another quick stop at a roadside stand with another viewpoint. We ended up buying a rattle made from a local fruit. It felt more crafty and probably something that we won't find in other ports. Or maybe it was all a scam and they're made in China.
While we were on the hike, we noticed that another couple was both wearing Brooks shoes. We had ours on too so when we were at the waterfall, we sheepishly asked one of the other guys in our group to take a picture of all four of us. Hopefully it turned out and I can send it in to Chelsea. I think they show those kinds of things off on their Facebook page or newsletters sometimes.
I'd love to come back here and spend some time hiking and camping. I wonder how safe it is to be off alone doing that type of thing?
We came back to the ship for a much needed shower and a quick lunch and then headed back out to walk the waterfront. There were a lot of little shops and craft exhibits. It was a welcome change from the standard fare we get at most ports, but we didn't feel safe venturing too far into the city. That coupled with the heat and our full bellies meant that we went back to the ship before too long for a nice nap on the sundeck.
After watching the ship leave port and our afternoon ice cream break, we came back to read on our balcony and watch the sunset. To our surprise a whale surfaced about 100 feet from the ship! Tyla spotted it right away. We snapped a couple quick pictures before it threw it's tale up in the air and submerged. About 20 minutes later, Tyla again jumped up because she spotted dolphins playing in the ship's wake! They stayed in one spot in the wake so we watched them until the ship had moved too far past them. We've heard that frequent cruisers often see these types of things but it was a first for us!
We had also spotted some flying fish near the front of the ship earlier in the afternoon and also on the catamaran yesterday. They look like small birds and they actually have some kind of wings that they flap really quickly as they skim above the stop of the water. We ate some for lunch on the catamaran. Delicious!
We've been going to the show every night before we eat dinner. None of them have been super impressive, but tonight's was really good. It was Adam Kato (sp?) and he did a variety/comedy/juggling act. He's the two time world champion juggler, and he kept us laughing for the whole hour.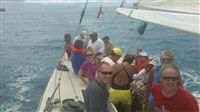 Friday, March 23, 2012
We awoke today in St. Maarten on the Dutch side of the island. The water in the harbor is an incredible turquoise color. Our excursion today was the "America's Cup Sailing Trip." They had three boats that were raced in the last 80s and early 90s. One of them, the Stars and Stripes, is fairly famous, but I'll have to look up the details at home to remember everything. We were on True North, one of the two Canadian ships. There were about 14 guests on each boat plus three crew members. They gave everyone a job and then barked out orders as we raced the other two boats around a marked course. It was pretty exciting to be on a racing sail boat. Tyla and I were both primary grinders which meant we were two of the four people on the large handles near the center of the ship and we controlled the front sail. Our boat came in last but it was still a great excursion.
It rained briefly when we got on board the sailboat but then it was sunny until we got off the boats and it looked very threatening. We made our way back to the cruise ship quickly and got inside just as it started to pour. We showered and ate lunch and then headed back outside. It was sprinkling and raining but we went in some shops anyway. This looks like a really nice island to visit for a longer time. We didn't really get to see much of it since we were just sailing around the harbor.
Last trip I don't think we ever came back on board the cruise ship in the middle of the day but we've done it quite a few times here. It's nice to take a shower after the excursion, get cleaned up, and eat lunch in the cases where lunch isn't provided on the tour.
During the excursion I tried some of their local Preisdente beer. Yesterday I had Banks and the day before I had Carib beer in St. Kitts. I wasn't that impressed with Banks but the other two were pretty good.
After we came back to the boat the second time, we changed into dry clothes and then lounged out on our balcony. We both ended up falling asleep and when we woke up, there was a bottle of champagne in our room with a note from our stateroom attendant! I took the bottle out to the balcony with the two glasses, took the cage off the cork, loosened it a tiny bit and then decided to wait for Tyla to come back outside before I opened it. She came outside just as the cork exploded off the bottle and over the railing landing on the pier right next to the boat security guys. Those on the balconies around us and the security guards got a good laugh out of that.
I caught up with our attendant later to thank him. He said that he was embarrassed when he entered the room and saw us on the balcony but that he got a laugh when he realized we were both asleep. I don't know if that's something he does for all the rooms or not, but I didn't see anyone else on their balconies drinking champagne as we left port. As we motored past the last mooring, we spotted a stingray swimming in the water.
This is our last port before we set sail for Ft. Lauderdale. It's always a bit disappointing when the end of a great vacation is in sight, but we're happy to have two more days at sea to relax. Tyla hasn't been feeling great since last night so hopefully she'll get back to 100% with some rest. We kept things simple tonight and just ate at the buffet instead of going into the main dining room. Every meal there is four courses so it's hard to do portion control!
We did stop in and see tonight's show, and I'm glad we did. The performer was a singer who starred in the Lion King in London. He was a bus driver who stopped in at open auditions and ended up playing Simba's Dad in the play. He sang a variety of songs from Frank Sinatra, Michael Buble, the Lion King and many more. At the close of his performance he received a standing ovation from the audience. It's the first one we've seen on this trip.
I haven't talked much about the other people on our boat, but every day we're meeting more and more interesting, fun people. As soon as we stepped on the boat we met a nice couple from England and then on every excursion we've met a few more great people. Today there was a pilot who flew for some company that specialized in North and South Pole flying. We've really only met one family that we didn't like. They were on the catamaran and all three of them couldn't stop telling us how rich they were (or at least how rich they wanted to appear.) We ended up moving to another part of the boat at the first opportunity. Now as we walk through the ports or around the boat, we often hear our name called out by friends we've made in the previous days. It's fun to catch up with them and hear what excursions they did. We can't remember talking to almost anyone on our last cruise. It's probably a change in our own behavior but we're loving it!
Tonight's sunset was pretty nice. It was the first one that we could watch from our balcony and while we never saw the sun itself, it turned the clouds some very beautiful colors. I've been taking timelapse photos every time we leave port so I tried to do timelapse sunset photos. We'll see how that turns out.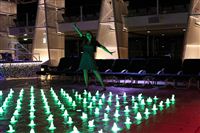 Saturday, March 24, 2012
We didn't need to set any alarm this morning because there were no excursions waiting for us. This was our first of two days at sea as we return to Ft. Lauderdale. We were in bed before 10pm last night in hopes of helping Tyla get over the stomach bug that she has picked up. It's slowed her down a little but hasn't stopped us from enjoying ourselves too much.
This morning we examined some of the items they had on display for purchase and went to a talk about the history of pirates. Around 3pm we headed into the main theater for the crew talent show. About 8 different crew members got up to show various skills from fancy bartending to singing and tap dancing. Some were good. Some were not. But it was interesting to watch.
The rest of our day was spent lounging up on the top deck in the sun. We were probably up there for 5 hours total today. While we were up there, it occurred to me for the first time on this trip that I've spent the last 10 days right by Tyla's side. Aside from bathroom trips, we never split up, and in all that time, I've never been anything but thrilled to be here with her. I'm sure these places would still be beautiful if I was traveling alone, but they mean so much more when I can share them with her!
We only have one more day of sun to go and it seems that we are doing a pretty good job of managing our exposure to the sun. On the last trip I burned within the first few hours of being on the boat and spent the next week peeling. Tyla is starting to peel a little bit on her head but it's not too bad yet and neither one of us has gotten a really severe sunburn. We've definitely had the aloe out each night to manage some red spots, but our heavy applications of SPF50 are doing the trick. Even with all that, we're both still picking up some color.
Tonight was Tyla's favorite dinner. It was our second formal night and they had lobster tail. The cruise director also came in to introduce all the waiters and food crew. We got to take a photo with our waiter, assistant waiter and sommelier. The sommelier even took us back into the wine storage area. It was amazing to see all those bottles and it's displayed in a very prominent portion of the eating area.
This was the first night that we skipped the show but on formal nights the shows are later and we decided to just head for bed. Relaxing all day is tough!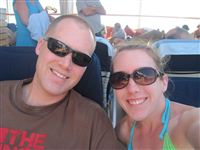 Sunday, March 25, 2012
It's hard to get too excited about the last day because all day long we're thinking, "Oh it's our last time to go take an afternoon ice cream break" or "It's our last time to see the sun on the boat." But even with those thoughts in the background, we still had a great day. We spent the entire day lounging around on our balcony and our in the sun on the top deck. Tyla got some sunburn on her arms so hopefully that doesn't get too painful.
Last trip we chose to lug our own bags off the ship which meant that we had to be off by 7am. This time we opted to leave a little later and let them move our bags off the ship to a baggage claim area. The downside to that was it meant we had to get our main bags packed and outside our door by 11am but we would have had them mostly packed anyway
Packing was also a little more complicated because I decided to bring some liquor back and see how that process works. You're allowed 1 liter of duty free liquor per person so I got two liters of some Mt. Gay Eclipse (their nicer rum that isn't available in Washington) for only $19/bottle!
We said goodbye to Karim (waiter), Darel (assistant waiter), Onur (sommelier) and Natalie (hostsess) tonight. They've become friends as much as you can make friends with someone in 10 days. On this boat it didn't seem like they put people with the same waiters in the select dining area but after we got Karim and Darel on the second day, we asked Natalie if we could always sit in their section and she kindly obliged. It was so nice to see them smile and wave as we walked into the dining room! I usually had a pop with dinner each night. Darel usually got it for me even without me asking. One night he forgot but I figured he was busy so I didn't ask. When we saw him next he said he realized that he forgot my pop while he was lying in bed that night and he felt terrible. Ha!
The show tonight was a recap of some of the more popular acts. I think our favorite show of the whole trip was Philip, a baritone singer from England who starred in the Lion King in the West End. He has a fantastic voice and a great stage presence.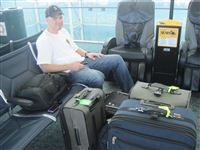 Monday, March 26, 2012
And now the end is here. We woke up this morning already back in Fort Lauderdale. We ate one last delicious breakfast in the buffet and then went back to our room to pack our final items into our bags.
We were assigned to meet in the theater before leaving the boat at 8:35am. When they finally called our number, we headed up to deck 5 and exited the ship. Our bags were waiting for us in the baggage claim area and we breezed right through customs.
We didn't arrange a transfer to the airport as part of the cruise but there were plenty of taxis ready to take us. We hopped in one of the shared vans for $11/person and it was a quick ride to the airport. Then the phones got turned on and we were back into the real world.
It was such an incredible vacation and it's hard not to be sad about it ending, but wow, we have made some wonderful memories that will last us a lifetime!