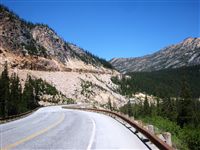 Not only did I survive the ride on Friday, but I thoroughly enjoyed it! I took almost the exact route that I talked about in the post on Friday. The only deviation was that I took US 97 Alt right through Chelan to check out the lake. Impressions from the ride:
I have now been through all four east/west mountain passes in Washington over the Cascades. Highway 20 (the northernmost pass) has the best scenery. It's absolutely gorgeous and I can't wait to go through again! The pictures do not do it justice. You could easily spend a whole day stopping at each lake (there are lots of dams along the river) and relaxing.
It was HOT (upper 90s) on the east side of the Cascades. I tried riding with no coat for a while, but that didn't last long. I think it was cooler with the coat on because it kept me in the shade. At some temperature, the increased wind speed actually makes you hotter instead of cooling you off. It's a giant convection oven. That's my theory anyway.
This motorcycle is awesome. I got a number of compliments/questions when I stopped for gas. In particular, I get a lot of questions from taller riders who are curious what modifications I made to the bike for comfort.
I was able to go about 100 miles per run (that number decreased toward the end of the run.) I was able to stretch out my knees fairly well, but there was no rest for the butt. I think I might try biker shorts next time to see if that makes any difference.
I got great gas mileage. Normally I get in the very low 30s around town but I averaged over 40 for this ride.
The AutoCom system I put on the bike is marvelous. I had music for the whole ride. It was an eclectic mix of Jason Mraz, Little Big Town, Flobots, The Hush Sound, and a few others. The audio highlight was listening to Preston and Steve's Drunk Day podcast from last Thursday. Best morning show ever.
The audio system performed well even with the ear plugs that I wore for the entire trip. I had to turn up the volume, but in the end, I think I heard the sound better than without the earplugs. The plugs took out much of the wind noise and the audio made it through nicely.
The total ride was 440 miles and I covered it in exactly 10 hours. I don't think I could have done it much faster as I kept all my breaks to a minimum.
I can't recommend this ride enough! However, take two days to do it if you have the time and it will be even more enjoyable. There is so much to see!
Photos are available in the photo gallery.