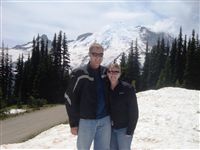 On Sunday, I hopped back on the bike for another ride. I recovered surprisingly quickly from the 440 miles on Friday. This ride took Tyla and I down to Mt. Rainier. It's a very nice ride covering mostly two lane roads and then a very nice windy road up to Sunrise lookout. There was heavy traffic, but not as much as I was expecting considering the holiday. Plus, traffic always seems lighter on the motorcycle since it is much easier to pass.
The view from the top was outstanding. We took our time at the top having lunch, a snowball fight, and a walk through the nature center.
It was a great day for the ride, and I hope that it's just the start of our Mt. Rainier adventures for the year. I want to take the car back next time and do some hiking either from Sunrise or one of the other entrances.
That wrapped up a 600 mile weekend on the motorcycle for me. On those two rides, I went from sea level to above 5000 feet twice, saw three different active volcanoes and numerous alpine lakes, watched roaring rapids with rafters and a 100+ ft waterfall, had a snowball fight and sweated in near-100 degree weather. Seattle positively rocks. The more time I spend here, the more confused I am about why the entire country doesn't live here.
Photos are available in the photo gallery.