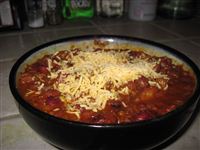 I love chili, and when I make chili, I generally say the spicier the better. I made it last week and I think I finally made it too spicy even for me. I won't go into details. You should just be thankful you don't live with me. Here is the basic recipe I use and I'll point out where you can adjust the heat.
Ingredients

2 tsp Each – Salt, Pepper
2 tbsp Each – Chili Powder , Sugar
1 lb(s) Lean Ground Beef or Turkey
1 can(s) Tomato Soup, 10 3/4 oz
3 can(s) Red kidney beans (Undrained) 15 oz cans. I've also used "chili beans."
2 can(s) Stewed Tomatoes, Italian/Mexican style, 14 1/2oz
Cheddar cheese and sour cream to top the chili when you serve it

Brown ground beef, drain, put in 4 quart pot. Add all other ingredients. I drain off a bit of the juice in the beans but leave most of it. Adjust spices to your liking. Sugar reduces the acidity of tomatoes. Bring mixture to a boil, stirring constantly! Once boiling, reduce heat to simmer, and cover pot. Simmer for 2 hours, stirring every 15 minutes to prevent burning on bottom. After 2 hours, remove cover and continue to simmer until desired thickness.

Tips:

This works better on the stove than in the crock pot. Don't forget to stir every 15 minutes though. It will burn if you don't.
Taste it about an hour in and see how the spices are doing. Add sugar if it's too spicy and add pepper and chili powder if it's not hot enough.
If you know you like it hot, chop a jalapeno and throw it in at the beginning. I used two jalapenos last time and that was too much for me.
I put the stewed tomatoes through a food processor before I start to get them chopped up into smaller pieces. I don't like big chunks of tomato in the finished product.
I've tried a lot of chilis over the years and this is my favorite. I don't make it very often because it takes a lot of attention, but when I do, I like to eat leftovers on the bed of rice.
Tyla isn't a big fan of beans so I'm going to start experimenting with beanless chili. If you have a favorite recipe, please let me know! Apparently the chili gurus in Texas consider beans in chili to be blasphemy so I'm sure there are plenty of good beanless recipes around.