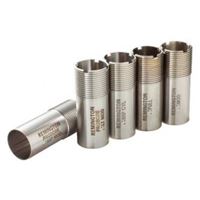 When Logan and I took the trap shooting class, they suggested that I go two steps tighter on my choke tube. The choke of your shotgun determines how the shot flies out of the barrel. As the shot gets farther from the gun, the area it covers expands. That's good but if you expand too much then your target might fly right through the middle of your pattern. You can screw different choke tubes into the end of your gun to constrict or free up that pattern. To test the pattern, you can shoot at a piece of paper placed at a specific distance and see what the pattern looks like.
My Remington 870 came with a modified choke which is about in the middle of what you can do with choke tubes. I ordered a full choke. It probably only takes about 4-6" off my pattern size, but it should get rid of some of the holes in the pattern. There have been a few times when I knew I shot perfectly but the bird never broke. Hopefully that won't happen anymore.
My first attempt at the range went pretty well. In the second round I tied my high score. Hits give a much more satisfying explosion because more shot is hitting the target.
I'm reading a book about trap shooting. The author says it's easy to get too wrapped up in choke tubes. He says you should pattern your gun, pick a choke tube, and stick with it. "Choke tubes change inches while misses happen in feet."