The audio-visual setup at our church is not very impressive. We don't ask a lot of it. The main functions are:
Amplifying pastor's voice
Providing a feed to the screen in the nursery area
Recording the service
Check out this "before" picture. Believe it or not, this is after I had started replacing some gear and throwing stuff away.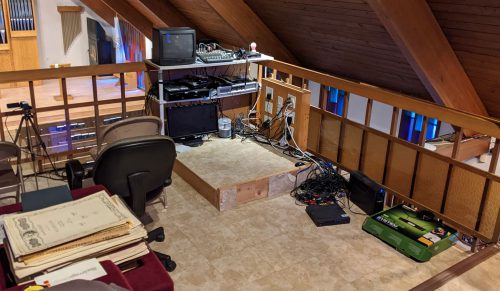 I'm the one who ends up running the equipment most of the time so I decided it was time to take this area on as a project. If you've been following my @martenswoodworks account then you've seen some progress updates in the stories, but over the last couple months I've been slowly building up the new solution piece by piece. I wasn't confident enough to do it all at once since there are so many unique constraints to a project at church. Things rarely play out as expected. This was my rough plan going into it: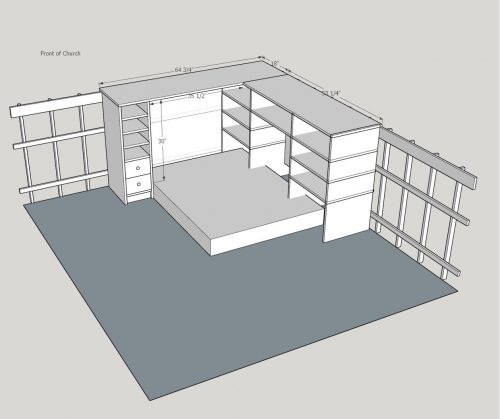 Along the way, I was happy to find someone at work who was selling three 24″ monitors and a monitor arm to hold them all. That was the perfect addition to the project because I'm always nervous about stuff toppling over the edge and landing on people. Here's a look at the end result: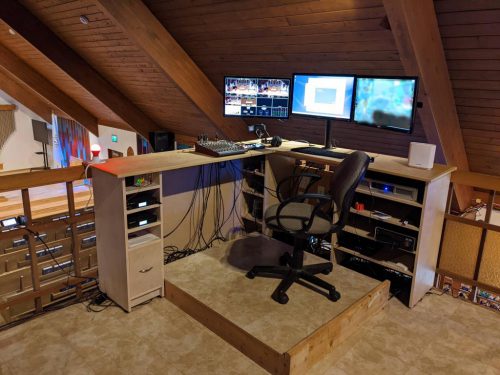 The screen on the left is the video switcher. It takes input from up to four cameras though we only use two today and it combines in the audio from our audio mixer. It records straight to USB (or in the future can live stream to YouTube.) The middle screen is a PC that I'll use for uploading to YouTube, using extra features of the video switcher, and, in the future, controlling the TV in front of the church. The right screen is for our security cameras.
If I wanted to post a sermon with the old setup, I would come home with two SD cards from the video cameras and a DVD with audio from the mixer. I would have to edit that all together and then upload it to YouTube. That was a couple hours of work for me when I got home every Sunday. So you can imagine my joy when yesterday I recorded the whole service to a USB stick and uploaded it directly to YouTube before I left church!
I hesitate to post this because there are always more things that can be improved (cable management for one), but I do feel like this is in a place where I can slow down for a bit. Not only is this a nicer to use, it opens more possibilities down the road and hopefully it's not so intimidating for others to learn.