Welcome to another Tesla Tuesday!
We ordered a Tesla Model Y on October 18, 2021. The original estimate was that we'd receive our car sometime in May 2022. 210 days later, almost exactly in the middle of the original estimate range, our car arrived! While we waited, the estimated delivery date changed many times. I kept track of all the changes and plotted it as the number of estimated days until our delivery window.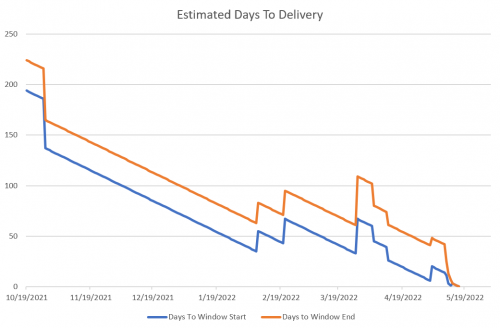 Less than a week before the delivery date, we got a call to talk about our trade in. Via a combination of text messaging and the phone app, we shared some basic information and photos of the car we wanted to trade in. They gave us a quote which seemed reasonable compared to other sites like Carvana and CarMax so we went with it. In Washington state, trade in value is deducted from the new car's price before sales tax is collected so that's a significant advantage.
The next day we got a text message asking us to choose a date for delivery! We picked the first available spot and then it was time to start filling out forms… online. Everything was done through the app! We got PDFs of all the sales documentation along with a full breakdown of exactly how much we owed. Once I texted back and forth a bit to understand some of their calculations, we completed the payment via the app. Payment is all done via the app whether you're financing, paying cash, or getting a third-party loan.
We've ordered cars from other manufacturers in the past and when they were "delivered", we had to go to the dealership and spend 2-3 hours going through paperwork and attempted upselling of paint protection film, interior sprays, extended warranty, service plans, and more. With Tesla, it was a true delivery experience. A driver arrived at our house within the two-hour scheduled window and dropped off the car. We did have to do some paperwork for the DOL, but then I signed a form on his phone and he transferred ownership to the app on my phone. (With a Tesla, your phone is your key.) The driver inspected our trade-in to make sure it matched the condition that we had shared earlier and then drove away. That's it!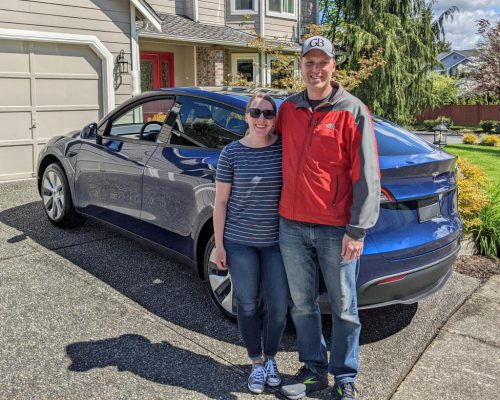 The entire process from ordering it online to getting daily updates on the estimated delivery window via the app to texting our sales advisor periodically with questions to the streamlined delivery approach was a joy! I can't begin to compare it to some of the bad experiences we've had buying cars in the past.
Now it's time to go through that semi-awkward period where we are the "new car people". It's a tradeoff between being super excited about this new purchase but also feeling a bit embarrassed about it. Even though I've done the math that shows it will pay out eventually compared to what we would have bought instead, that's not totally true because we could have bought a much cheaper used car to get us from point A to point B.
A lot of the frequent questions I get about owning a Tesla are covered in my original "Why we bought a Tesla Model Y" post, but I'll update one of them: "How much does it cost to charge it up?" That question is a little easier if I convert it to "What is the energy cost to drive 100 miles?" Our Escape consistently got 22.7 mpg and gas at the six closest stations around my house averages $4.89 today so the Escape would cost $21.54 in gas to drive 100 miles. For the Tesla, if I consider average kWh/mile and a small amount of energy loss to heat while charging, it would be $2.88 to drive that same 100 miles (87% less).
Will this really save us money overall? Only time will tell and even then, we'll be guessing since we won't be driving a comparable internal combustion car on all the same trips. It will probably come as no surprise that I have detailed data about the exact cost per mile for all our vehicles over the years (purchase price, trade in value, service costs, registration fees, fuel costs, inflation, etc.) so I'll be able to make a good comparison. But in the meantime, I'm going to be happily driving around our new computer-on-wheels and thoroughly enjoying not wasting my time waiting in line at slow gas pumps or wondering what the oil drip on the garage floor means!