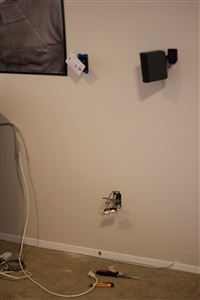 We like to eat dinner while we watch movies in the theater room. For some movies the light bouncing off the screen is enough to illuminate our food, but for darker movies, it can be a challenge to scoop up those tricky peas.
Since it's pretty difficult to do anything with the vaulted ceiling, I added 12 feet of rope lighting behind the couch. It's mounted to the wall but in such a way that you just see a glow emanating instead of direct light.
To top it off, I added a dimmer switch. We started with a Leviton dimmer switch extension cord. That worked ok but I thought I could do better so I picked up a Lutron MIR-600THW dimmer switch. It took a little more work because the outlet I wanted to use wasn't on an outlet yet.
I cut into the wall yet again (this was the 9th time I've used the drywall saw in this room) and made a hole for the switch in the same stud bay as the outlet at the standard switch height. After flipping the circuit breaker off, I removed the outlet, removed the connection between the top and bottom outlet so only half would be switched, fed some Romex up to the new hole and then wired in the switch. Perfecto!
Now we have a dimmer switch that we can use to give us just the right amount of ambient lighting. But it doesn't end there. This switch has an infrared remote control! It was a piece of cake to set up our fancy Harmony One to control the light switch.
The dimmer switch worked out so well that I'm thinking about adding one in the bedroom too. No more getting out of bed when we finish reading and have to decide who gets out of bed to turn off the lights.