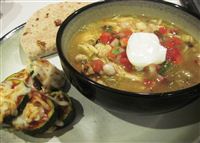 Jay sent me a recipe and said it was so awesome that I had to make it. Since he rarely sends me recipes, I figured I'd give it a shot.
Part way through the cooking process, my noise started to burn. Then I looked over at Tyla and her eyes were watering and her whole face was red. The chili ended up being spicier than I normal make it but still delicious.
When I mentioned it to Jay he said, "Oh yeah, I forgot to tell you that I didn't use the jalapenos." Thanks.
The side dish you see in the photo is something Tyla made that she calls "zucchizzas." It's sliced zucchini with pizza sauce and mozzarella baked under the broiler for about 5 minutes. Pretty good!
Ingredients

8 Cups fat free, reduced sodium chicken broth

8 Portions chicken breast (about 2 pounds)
2 Packages Knorr Roasted Chicken Gravy Mix
3 Cans (7 ounces each) mild diced green chilies

1/2 Cup fresh cilantro, chopped
1/2 Teaspoon ground cumin
2 Jalapeños, seeded and chopped
1 Can (28 ounces) white hominy, drained
8 (6-inch) flour tortillas

1/2 Cup fat free sour cream

Directions

In a large pot, combine chicken broth, onion and chicken breasts. Heat to boiling over high heat. Then reduce heat to low and simmer until the chicken is no longer pink in the center, about 20 minutes. Remove chicken from the broth and set aside to cool.
Use whisk to blend and gravy mix into the broth. Then add chilies, garlic, cilantro, cumin, jalapeños and hominy. Bring to a boil over medium-high heat; then reduce heat to low. Shred the cooked chicken by pulling it apart with two forks, and add it back into the broth. Cover and simmer for 40 minutes.
Warm flour tortillas by placing them between two damp paper towels and microwaving on high for 45 seconds.
Spoon a portion of the green chili (about 1 1/2cups) into each bowl, top with a spoonful of diced tomato and a tablespoon of sour cream.
Fold a warm tortilla, and place it beside the bowl of chili for dipping. Serve and enjoy!