Ever since Elijah was born, Tyla and I have talked about if and when we'll go to Disneyland for vacation. We know that we're probably not going to end up being frequent Disneyland visitors so we hemmed and hawed a lot about what year would be a good one, but eventually, we pulled the trigger and put Disneyland into the 2018 budget.
This post is going to be a bit like when a relative sits down with a huge photo album, but hey, at least you can skip through this without hurting my feelings. Note that you can click on any of the photos for a bigger version.
Preparation
Planning a trip to a Disney resort felt overwhelming. Neither one of us has ever been there. (I was at Disneyworld when I was in kindergarten.) So many people have been there and they all have opinions. Searching around on the web reveals endless websites, videos and podcasts telling you the right way to do it. I ended up reading The Unofficial Guide to Disneyland mostly because it had good reviews on Amazon and it was available for free as an ebook from our library. I got so much out of it, that I ended up purchasing a physical copy of the book too. The book covers everything from hotels to rides to food and more. There's an incredible level of detail if you really want to maximize your trip (for example, stand in entry line X when entering the park because people end up forming one line but when you get to the tree it splits into two lines so it moves twice as fast.) But for me, it was simply nice have a full picture from a single source. I took lots of notes on my first read of the book and then went back to reread some of the sections again.
We decided to pony up for one of the official Disney hotels and we booked a room at Disneyland Hotel. We even upgraded one notch to get a pool view instead of a parking lot view. If you stay outside the park, you can stay close and get a bad pool or stay farther away and get a better pool. Staying in the park gives you both. A good pool was important because our plan was to spend two days in the park with a day at the hotel/pool in between. Staying in a Disney hotel also gives you early access to the parks on certain days.
To figure out dates for the trip, I went back to the book, or rather, to the website associated with the book: touringplans.com. I spent a couple bucks and bought a one year pass to the website. They're a bunch of data science geeks who happen to love Disney so they have built up a sophisticated model to predict traffic at the various resorts and even wait times on every ride. I used their data to pick relatively low traffic periods (and low hotel price periods) that coincided with our availability.
Once I had the dates, I found our flights and a shuttle service between the airport to the hotel that wouldn't require us to bring a car seat for Elijah.
The next step in the planning process was going through all the various rides and trying to come up with some sort of a plan going in. I narrowed it down to the rides that I thought Elijah would enjoy (nothing to dark, nothing scary, nothing too intense, etc.) Then I plugged them all into the Touring Plans website and it created an optimized route for us based on our walking speed, predicted waits for every ride, etc.
The final step of planning was figuring out food. I heard from multiple people that you need to make reservations for your meals if you're planning to sit down and eat. I picked out one character dinner for our day off and then booked a meal at a restaurant in each park for dinner.
Two Days Before We Left
I was on my way home from work on Friday when I got a text from Tyla telling me to come straight inside as soon as I got home because Elijah had a big accident on his bike. He was zooming down the hill in front of our house and ended up going over his handlebars. He scraped his face across the pavement and came to a stop. He ended up with pretty bad cuts around his eye and a big swollen lip.
Thankfully there was no permanent damage (other than a slightly chipped tooth which we did get checked out when we got back). That was less less than 48 hours before our plane was scheduled to leave so you'll see some sores on his face in the pictures. It was incredible to see how quickly he healed. Seven days later, you could barely tell he'd had an accident!
Hotel Review
There are three Disney hotels and Disneyland is the second closest to the park entrance. It has a nice pool with some good water slides. In our final minutes of swimming on the trip, Elijah finally got up the courage to try the yellow one (the middle of the three intensities.) He did great and wanted to do it a million more times.
We were in Frontier Tower on the third floor facing the pool. It was a reasonably nice view and we were able to see some of the fireworks in the park every evening. The room felt nice and big. The highlight was the big headboard that stretched across both beds. It had the castle drawn into it and when you flipped a switch on the nearby lamp, lights came on that looked like fireworks.
One of the buildings that was part of the hotel also housed Goofy's Kitchen which was the site of our character dinner. We did that on our day at the hotel/pool so it was convenient to not have to go very far for dinner. The dinner was the most expensive frozen kid's food that I'll ever eat, but it was fine if I thought of it as private time with 5 characters. As a surprise bonus, Mickey was there and we got to take our picture with him as we checked in with the hostess. Throughout the meal we got to take pictures with Goofy, Minnie, Pluto, Chip and Dale. If I had that to do over again, I'd probably book breakfast or lunch since I think the characters are similar but the meal is a little cheaper.
Disneyland Park Review
We arrived at the hotel Sunday afternoon and then spent all of Monday in the park. The park opened up at 9am (no Magic Hour early entry that day). We had decided to use the park's stroller rental instead of other options, so we walked from the hotel to the park entrance and arrived at about 8:30. We picked up our stroller and walked into the park around the time it opened. (The stroller rental opened a bit later than normal for some reason.)
We walked up Main Street with smiles on our faces and headed through the castle for our first ride: Peter Pan. No deal. I think all the people and excitement were too much for Elijah. Looking back, I shouldn't have been quite so ambitious on the first attempt. There's no way for him to see what he's getting into with that ride since it's all inside. No worries. We scrapped that and moved on. We were there for a fun family time, not to ride every awesome ride. Here's how the rest of our day shaped up. It's pretty close to what I had planned on the Touring Plans website, but we definitely moved slower than I thought we would. No problem though, I was able to use the app to re-optimize our remaining rides. That app saved us a lot of steps and a lot of time.
Disney California Adventure Park Review
As I mentioned earlier, Tuesday was our day to rest, hang out in the pools and go to the character dinner. Wednesday was another park day and this time we got to use the Magic Hour at Disney California Adventure. We were near the front of the line and got to walk into the park with the first wave of people.
Our first ride was in Cars Land and before I get to the rides, I have to stop and talk about how amazing Cars Land is. That movie has gotten a lot of air time in our house, so maybe we're biased, but I think all three of us would pick that as our favorite area of either park. The detail is incredible and it's a blast to walk through the town that looks so much like the movie!
Radiator Springs Racers is one of the most popular rides in the park and our optimized plan said that we should hit that first. Since we were some of the first people in the park, we only waited 5-10 minutes. I knew this would be a stretch for Elijah, but he loves Cars and had already spent a day going on rides, so I thought we could pull it off. It was fun to be on a more adult ride and all three of us enjoyed it. We should have sat in the front instead of the back so Elijah could see better, but he never complained about his view (or lack of it.) In the ride photo, you can see him looking out the side of the car.
Next up was Luigi's Rollickin' Roadsters. We all crammed into one car and laughed as the cars danced around each other.
Mater's Junkyard Jamoboree wasn't on my list but Elijah wanted to try it. Imagine small tractors going in figure 8 patterns with a trailer behind that flings side to side. We couldn't all fit in one trailer so I took Elijah and Tyla got her own. During the ride, Mater sings a song as the tractors dance around. Elijah loved that one and we ended up coming back for a second round later in the day.
We walked over to Bugs Land which has a set of relatively unimpressive rides for very young children. Elijah wanted to try the bumper cars (Tuck and Roll's Drive 'Em Buggies) so we waited in a long line for that but it was worth it to see him cracking up as we bonked into each other.
We hit another simple ride called Francis' Ladybug Boogie which is a slow teacup style ride.
Then it was time for lunch so we went back to Cars Land and had lunch at Flo's V8 Cafe. Tyla found us a nice spot in the air conditioning by a window looking out over the Radiator Springs Racers ride. We beat the rush and didn't wait long at all to get our food.
Earlier, I had acquired a Fast Pass for Toy Story Midway Mania so after lunch, we went through Pacific Wharf to Paradise Pier. Much of the pier is under construction for its conversion to Pixar Pier, but we found the Toy Story ride with no problem and our Fast Pass shot us to the front of the line. The ride is a fun ride through a midway shooting style video game. I had to keep reaching over and helping Elijah aim but I still managed to rack up 142K points which i think is respectable. I would have liked to try that one again.
From there we headed to The Little Mermaid ride. Elijah was nervous that it was going to be underwater again. He doesn't know much about the movie and was a little scared by the witch, but it was an ok ride. It reminded me of It's A Small World.
We walked over to the Redwood Creek Challenge Trail in Grizzly Peak. It's a big playground type area with lots of rope bridges and things to climb up.
It was time for ice cream and since we liked Cars Land so much, we decided to get it from the Cozy Cone motel area. The line wasn't very long bug ugh, we waited a very long time in the hot sun. Getting ice cream there was a bad choice,
Next we walked back down Buena Vista Street to Turtle Talk With Crush. I didn't know much about it, but it ended up being a big hit with Elijah. It's a small theater with a big screen in the front. Crush (the older turtle from Finding Nemo) comes on the screen and interacts with the kids. There's a voice actor talking and animating Crush as he talks so he can actually say the kids' names and answer their questions. Elijah liked this so much that he ended up choosing a Crush ornament for his souvenir. It was the only souvenir he asked for on the whole trip!
We had a little time to kill before dinner so we went back to Bugs Land and rode the bumper cars again.
We also waited for Flik's Flyers which is kind of a bunch of buckets that lift up and swing around. We all fit in the same bucket which was nice.
One final ride on Mater's Junkyard Jamboree brought us to our dinner reservation time.
Dinner was at Wine Country Trattoria at the Golden Vine Winery. The food was good and we got to sit outside as the clock wound down on our vacation at Disney.
Elijah had been asking to ride the monorail again so we walked back to the Downtown Disney stop and hopped on the monorail back into Disneyland. We thought we could just ride a full loop but they made us get off at Tomorrowland and get back in line. I was a little nervous because they were closing the monorail at 7:30 in preparation for the fireworks show but we made it back on.
Actually only Tyla and Elijah made it back on. Earlier in the afternoon, I had snagged a Fast Pass for the Guardians of the Galaxy ride. I had no idea what it was, but the building was huge and I like the movies so I thought that would be fun. Tyla gave me her blessing so I hopped out of line and hoofed it back over to Disney California Adventure, used the Fast Pass and jumped to the front of the line. As I strapped into the ride, I still didn't know what it was, but it turns out that it's basically a giant elevator that goes up and down randomly in pitch black. It was awesome! The ride stops periodically and doors open to reveal the Guardians of the Galaxy talking to you. I was cracking up the whole time. Great ride! It was dark by the time I finished the ride so I walked through Cars Land one more time to see all the neon lit up at night.
Tyla and Elijah ended up with a magical monorail ride. There are a couple seats up with the monorail driver. Tyla asked if it was possible to ride with him and was told yes! So Elijah go to sit in the driver seat and ask a bunch of questions on the ride back to Downtown Disney. I'm sorry I missed that!
Throughout the day, we took a lot of photos including Lightning McQueen, Mater and Red. The cars must have had people inside to drive them because they could also hear what the kids were saying and use canned movie quotes to respond to the kids. Elijah loved Lightning and Red but I think he was a little intimidated by Mater's big teeth.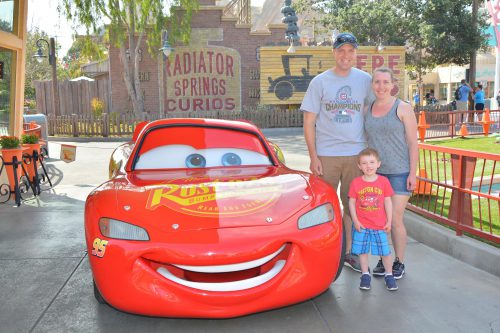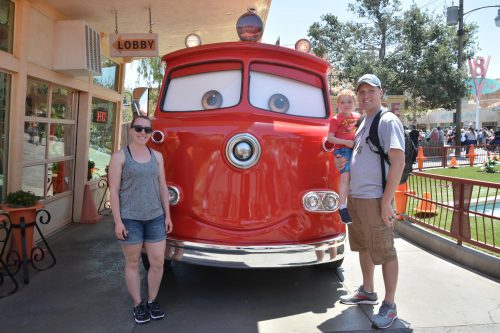 Final Thoughts
That was a lot of detail about a bunch of rides that you maybe have never heard of. How about some more general impressions?
I was prepared to spend a boat load of money every time we needed to eat. Tyla did a good job packing snacks and we made oatmeal for breakfast at the hotel, but I knew we'd still be shelling out for lunch and dinner. But to my surprise, the prices were quite reasonable. For example, the three of us ate lunch one day for $27! As long as you avoid the wine, beer, $3.95 pop or $7 souvenir cups and drink water, the prices weren't that far off from what you'd pay at a normal restaurant. They also had some reasonably healthy options at most of the food counter service and sit down restaurants. We planned to avoid French Fries and other greasy food and didn't have a hard time following that plan.
Elijah was amazing. I couldn't believe how long we got to spend in the park each day. He got a little whiny here and there but nothing out of the norm for a four year old. And I expected him to be asking for every souvenir in sight, but he only asked for cotton candy and the Crush ornament.
I was blown away by the cleanliness of the park.The cast members are obsessed with picking up any stray pieces of trash, and the trash cans all feed into a central vacuum system so people don't have to walk around emptying the trash cans. The cleanliness is infectious. I watched numerous visitors pick up random pieces of trash. When's the last time you saw that walking through the streets of your city?
The design of the various park areas was beautiful. It struck me how three dimensional everything was. I had to keep reminding myself to look up because there was so much more to see. Never once did we see outside of the park and the transitions from area to area were complete. I'd walk a few steps into a new area and realize that the music was totally different, yet I never remembered hearing both types of music overlapping each other. Meticulous doesn't begin to describe it.
We were warned by multiple people to make reservations ahead of time and boy was that important. Dinner at a sit-down restaurant in either park is basically impossible without a reservation. It's pretty difficult in Downtown Disney too. You can make the reservations online up to 60 days in advance. This also gives you the advantage of sitting with your guidebook and figuring out what kind of food you want to eat.
We splurged for both Max Pass and Park Hopper add-ons for our tickets. The Park Hopper ended up not being too useful. We basically just used it to ride the monorail on Wednesday. The Max Pass was excellent though and I'd definitely do that again. It lets you use your phone to collect Fast Passes instead of running all over the park and it also gives you free Photo Pass. Whenever you get your photo taken by one of the numerous professional photographers, they scan your phone and a few minutes later the pictures appear in your account.
There are lots of options for strollers from the park's service to 3rd parties that deliver to your door to bringing your own. There are proponents of each with the park's stroller rental seeming to be the least recommended, but we were quite happy with it. It was really nice to not stress at all about the stroller being lost in the stroller swarm. We knew we could just pick up another one. We never lost ours though, largely thanks to the bright orange dollar store lei that Tyla hung from it. Stroller pickup and dropoff was painless. You basically just leave it wherever it's convenient and they will collect it. Elijah will probably be too big for it next time, but I don't have a problem recommending it to others.
4300 words later you've probably gotten the idea that we did a lot of planning for this trip and it turned out even better than we hoped. The plan let us ignore a lot of the stuff that didn't fit our family goals and focus on the areas that would be fun for us. I didn't have to constantly worry that we might be missing something fantastic and we knew that with two days in two parks, we'd never come close to seeing it all. The goal was to leave wanting more and we succeeded, but I also think that a third day in the park might have been too much. Two was perfect for us at this point in our lives, and while I don't expect us to do this again soon, I bet we'll be back at some point.
Thank you to all the wonderful people at Disneyland for making our trip so memorable!