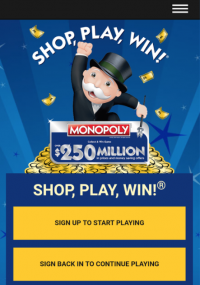 Every year I get sucked into the Monopoly game at Safeway, and most times I finish thinking, "Well that wasn't at all worth my time." This year was probably the worst though. Last year was pretty good with the easy ability to collect lots of free movie rentals on Fandango and some gift cards. This year the only thing I got was one gas discount ($0.10/gallon for one fillup), one free Fandango rental and three free donut coupons. They made the free Fandango rentals extremely difficult to acquire and threw in a bunch of ridiculous coupons and discounts that hold no interest for me.
One big positive for this year was that the phone app not only lets you scan in the second chance pieces, but it also keeps track of your Monopoly properties for you. The skeptic would say that I never won anything because their app was "keeping track of my pieces". Possible but not plausible.
I got a few free item coupons too but those items are always out of stock and is it really worth it to spend time trying to hunt down free packets of gravy?
So this year was a bust, but I'll probably get suckered in again next year.