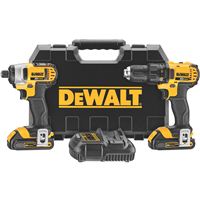 When I moved out on my own, my parents got me a 9V cordless Makita drill. It served me well through a ton of projects, but after 10 years, the batteries are worn out. It was either buy some new batteries or upgrade. After looking at the prices, I went with the latter and decided to keep the old drill around for smaller projects around the house.
I've loved using Tim's 18V DeWalt drills. He works them much harder than I will and they've held up well, so that, combined with some online reviews, convinced me to stick with that brand.
DeWalt recently made a huge switch and broke backwards compatibility with their batteries. With over 60 million batteries on the market, that was a pretty big decision. I decided to buy into their new battery technology. It's denoted on the market right now as 20v. Technically it's actually still 18v but people were getting confused so it's a marketing gimmick. The new batteries are lithium-ion and have a much different form factor that allows for smaller handles.
I ended up with the DCK280C2 combo kit which includes a compact drill, impact driver, two batteries, charger and a hard side case. Tim's XRP batteries will last longer than mine, but I have the option of getting some "MAX Li-Ion 3.0Ah" batteries if I want. I'm very happy with the 1.5Ah batteries that were included though. On the recent deck project, I put in 250 screws with the impact driver before the first battery gave out. Each screw was going through 5/4" cedar into pressure treated support joists. Not bad! Each drill has built in lights that stay on 20 seconds after you've let off the trigger and that comes in pretty handy in dark spots. The lights on the impact driver work a little better because they have three lights around the chuck instead of a single light under the chuck.
Maybe impact drivers are old news, but I've only started using them in the last year or so. If you've never tried one, give it a shot next time you're at Home Depot and you see the little demo setup. They are incredible. You'll twist your mind trying to figure out how you can drive a screw all the way through a stud without exerting any pressure on the drill. It's like a knife through butter!