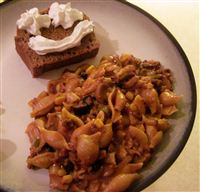 The in-laws got me a Dutch oven stand for my birthday and I was excited to give it a shot. The problem is that in my condo, the only place I have to do this is on the deck. Charcoal fires are against the rules but I thought I could get away with it… until I lit the charcoal and realized that that whole complex was going to smell like a campfire and the smoke from my balcony was a dead giveaway. I doused the flames and made dinner on the stove in a regular pot. I do think this would make a good Dutch oven recipe and you can find all the details on this website.
Even though I had to give up my Dutch oven dreaming for the day, it turned out delicious anyway!
Ingredients

2 Tbs. olive oil
1 lb. lean ground beef
1 large yellow onion; diced
1 large green bell pepper; diced
2 cloves garlic; minced
1 1/2 cups frozen whole kernel corn
1 cup fresh mushrooms; sliced
3 cups grated cheddar cheese
1/2 cup olives; sliced
2 cans tomato soup
2 1/2 soup cans water
2 1/2 tsp. paprika
1/2 tsp. cayenne pepper
2 tsp. salt
12 oz. bag pasta shells

Brown ground beef using 2 Tbs. olive oil in large pot. When beef has been browned, drain and then add onion, bell pepper, mushrooms, and garlic. Saute until vegetables are tender. Add corn, olives, tomato soup, hot water, paprika, cayenne pepper, and salt. Stir to mix well. Bring contents to a boil then stir in pasta shells.

Place lid on pot and cook for 25 minutes. Sprinkle cheese over top and cook for an additional 10 minutes until cheese is melted.

Serves: 6-8
I served it with some pumpkin bread that I made earlier in the day. Whip cream always tastes good on that, and it tastes even better when you make a design with the whip cream.