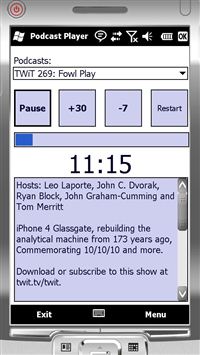 I have bad news. My 120GB Zune died. The original 30GB is still alive and well but Tyla uses that. My Zune got daily use in my car. I had all my music on there and I mostly used it to play the many podcasts that I listen to (TWiT, Car Talk, Home Theater Geeks, Windows Weekly, and Preston and Steve.)
I decided to use my phone (HTC Touch Pro 2) until I can get a new Windows 7 Phone which will double as my new Zune. The only problem with using Windows Mobile 6.5 as a podcast player is that the media player app doesn't save your position when you stop listening. This is critical for podcasts which span multiple drives to work.
I fired up Visual Studio and started coding an app to do this. It's a bit tricky to keep the phone from locking, but I got it all working. The UI is nothing fancy but I've been using it for a few weeks and it works quite well!
If you're interested in running the app on your phone or getting the source code, it's all available at http://podcastplayer.codeplex.com/ for free.