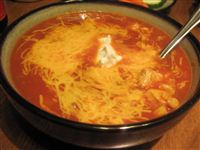 Mom sent me this recipe from Taste of Home. It's a slow cooker soup recipe and it's delicious!
Ingredients

1-1/2 pounds boneless skinless chicken breasts, cubed
2 teaspoons canola oil
1/2 cup water
1 envelope reduced-sodium taco seasoning
1 can (32 ounces) V8 juice
1 jar (16 ounces) salsa
1 can (15 ounces) black beans, rinsed and drained
1 package (10 ounces) frozen corn, thawed
6 tablespoons reduced-fat cheddar cheese
6 tablespoons reduced-fat sour cream
2 tablespoons minced fresh cilantro

In a large nonstick skillet, sauté chicken in oil until no longer pink. Add water and taco seasoning; simmer, uncovered, until chicken is well coated. Transfer to a 5-qt. slow cooker. Stir in the V8 juice, salsa, beans and corn. Cover and cook on low for 3-4 hours or until heated through. Serve with cheese, sour cream and cilantro. Yield: 6 servings.
We left the beans out and increased the corn and chicken. I was a bit leery about the V8 but it all turned out delicious!