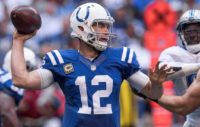 Whew. The Seahawks started off the season with a rough win. They were behind almost the entire game but finally put together a drive that culminated in a touchdown. That's not what we're used to seeing, especially at home and especially against the Miami Dolphins. Thankfully, a win is a win.
Our league had plenty of drama with a bunch of good games. When the dust settled, Tim, Andy, Dad and Logan had set sail on their undefeated season.
I'll start the stats table off with some carryover stats from last season, but next week I'll adjust that third column to be the current season.
| | | | |
| --- | --- | --- | --- |
| | This Week | (Last) Season | All-Time |
| Highest Team Score | Logan had 153.13 | Tim 200.51 (Week 3) | Tim 200.51 (2015) |
| Lowest Team Score | Luke had 94.33 | Andy had 41.29 (Week 14) | Andy had 41.29 (2015) |
| Biggest Blowout | Logan beat Jim by 32.09 | Ben beat Dad by 111.43 (Week 8) | Luke beat Andy by 113.02 (2010) |
| Closest Win | Tim beat Ben by 1.90 | Ben beat Andy by 2.46 (Week 7) | Jim beat Ben by 0.12 (2012) |
| Highest Scoring Player | Andrew Luck had 43.50 for Jim | Drew Brees had 60.54 on Tim's bench (Week 8) | Drew Brees had 60.54 on Tim's bench (2015) |
| Longest Active Winning Streak | N/A | Ben had an 8 game winning streak (Week 8) | Micah (2011) and Ben (2015) had an 8 game winning streak |
| Longest Active Losing Streak | N/A | Andy had a 8 game losing streak (Week 14) | Kyle had a 14 game losing streak (2011) |