I've been bad about completing projects, posting them to Instagram (@martenswoodworks) and then never posting most info here. So this project was completed back in May, but I thought it deserved a post.
We have always talked about whether we want to get a fire pit for the back yard, and when I was offered a nice Firegear burner, I decided to go for it. I built the simplest stand for it that I could imagine. I used tongue and groove cedar boards because that's what was available and I glued them on to 1/4″ plywood. I cut the center hole out on the CNC partly for practice and partly because I thought I might use the wood for something else later.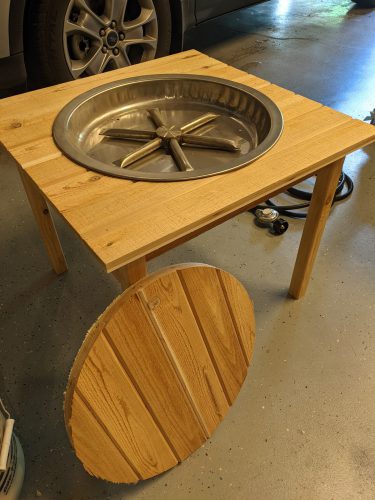 The main trick was finding room for all the hoses underneath and mounting the key/valve piece. I put threaded feet into the bottom of each leg so that the wood wouldn't directly contact the ground and so that I could make quick adjustments if it was wobbly. The final step was finishing it and I used fence stain in my spray gun for more practice with that sprayer.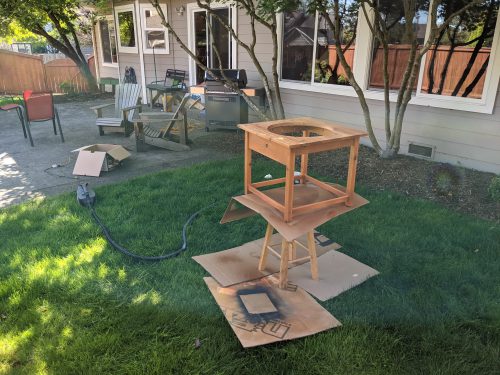 Building a fire pit out of wood is probably not the smartest idea, but I've checked the wood temperature after running it for 15-20 minutes and it's only around 140 degrees. Do I recommend it? Nope. But it will probably work for us.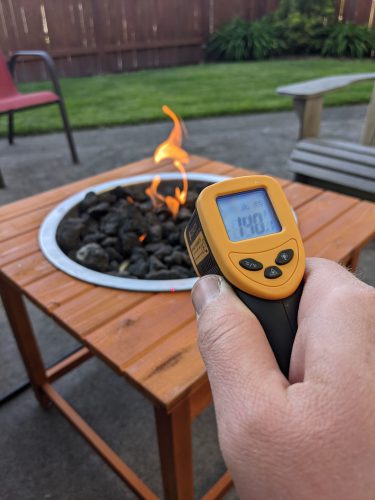 We've only used it a couple times. Tyla and Elijah have attempted to roast marshmallows with some success. Hopefully we'll get a little more use out of it when the weather cools off, but even if we don't, I made it to fit under the bench in the back yard so it's out of the way.