Rewind to March 2020. We had just entered lockdown. As a church leader, I was scrambling to figure out how to do services online. We didn't know what was happening (like we have any idea now!) I remember sitting down as a family and watching a video from Time of Grace called "God's Got This!"
During that, Pastor Mike talked about reminding ourselves that God is here. He's right here with us guiding us and protecting us, whether there's a pandemic or not. After that video, we sat down as a family and made "God is here" signs. We taped those signs to the wall in our kitchen and they stayed up until very recently.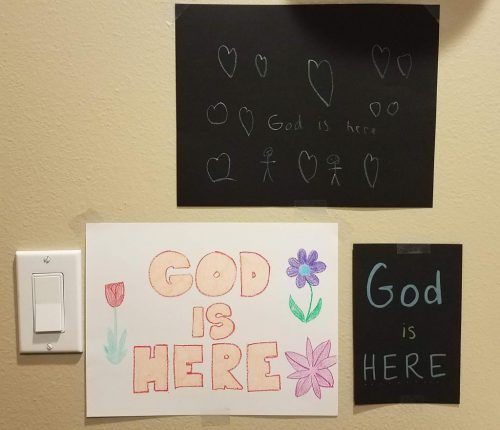 As we took those signs down, I decided to make a more permanent version. I used the cedar circle leftover from the fire pit project. I drew some words, cut them out of 1/4 MDF on my CNC, painted them, and glued them on.