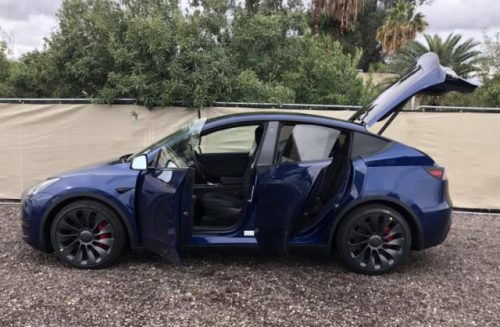 Welcome to another Tesla Tuesday!
Our garage has a separate garage door for each bay of the garage. It makes for a narrow entrance (95″) and our garage isn't very deep either (233″). As we were thinking about ordering a Model Y, I wasn't sure how well it would fit inside.
Our 2013 Ford Escape was 178″ long and 82″ wide with the mirrors extended. There were no automatic side mirrors on it so they were always extended. That car fit fine in the garage and with careful parking, we were able to walk in front of the car and still open the rear hatch even when the garage door was closed. It was tight but it wasn't bad.
The 2022 Tesla Model Y is 187″ long and 84″ wide with the mirrors extended or 76″ wide with the mirrors folded. So it was 9″ longer and a couple inches wider in a space that was already tight with our Escape. I wasn't quite sure how we'd be able to get the rear hatch open, but it all worked out for two reasons:
The automatic mirror folding works really well. When we get close to home, the mirrors automatically fold in and stay folded in until we're backed out of the garage.
We park the car with about 22″ in front and 22″ behind. That leaves plenty of room to open the rear trunk because the pivot point is so much further forward than it was in the Escape. The Model Y rear hatch only needs about 10″ of extra space behind the car to open.
This is probably pretty boring if you're not in the market for one of this specific car, but hopefully it will help someone else out there who was trying to make the same guesses that we were when we ordered.