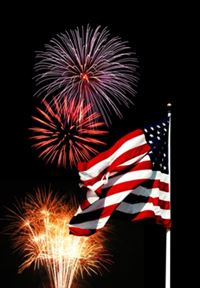 Happy Fourth! Here are some fun trivia facts to annoy your friends and family:
John Adams, Thomas Jefferson and James Monroe all died on the Fourth of July.
Calvin Coolidge was born on the Fourth of July.
Most people didn't sign the Declaration of Independence until August 2, 1776.
The final signature on the Declaration of Independence didn't come until January of 1777 when Thomas McKean put his name on it.
31 places in the US have "Liberty" in their name. Iowa has the most with 4.
1 in 6 backyard BBQs contains meat from Texas.
Though we fought them for independence, Britain is now our 6th leading trade partner.